Climate Bulletin and Regional Outlook
The Gulf of Maine Council's Climate Network produces a quarterly e-bulletin with information on regional climate adaptation events and resources, including the Gulf of Maine Region Quarterly Climate Impacts and Outlook. Each season, US and Canadian meteorologists share data and collaboratively plan the Outlook, which offers an engaging two-page snapshot of the past season's events and anomalies; discusses weather impacts on the region's ecosystems and economy; and offers a forecast for the coming three months. For those who work in sectors ranging from transportation and emergency management to fisheries, forestry and farming, the Outlook provides insight into both short-term weather and longer-term climate trends. These joint e-publications are issued every March, June, September and December: sign up here to receive the Climate Network bulletin and Gulf of Maine Region Quarterly Climate Impacts and Outlook.
Click here to download the June 2014 Outlook (PDF, 1.1 MB)
Click here to download the March 2014 Outlook (PDF, 1.1 MB)
Precipitation from extreme events in the GOM region has increased 74 percent since 1958 (NOAA).
Extreme weather already poses economic and ecological challenges, and these events are expected to grow more frequent in coming decades, with precipitation increasing 5-9 percent (IPCC 2013).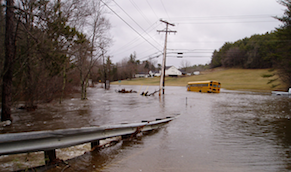 Credit: Sherry Godlewski
By 2050, climate scientists project a more rapid increase of 2.5 to 3.5°C (4.5 to 6.3° F) in regional air temperature (IPCC 2013).
Temperatures in the Gulf of Maine have risen much more in recent decades than many other coastal waters around the world, and a 2012 "heat wave" in sea surface temperatures had damaging economic impacts.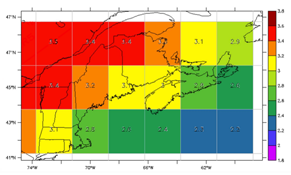 Projected Temperature Changes in the Gulf of Maine Region by the 2050s (°C.), reflecting the most recent IPCC models (Credit: Adam Fenech, UPEI Climate Lab)
What's Climate Change and What's Just the Weather?
This one-minute animation by Ole Christoffer Haga, produced by Teddy TV for the Norwegian Broadcasting Corporation, clearly and humorously illustrates the difference between long-term climate trends and variable weather patterns.