King Tides Photo Contest
Winning Photographs

Ron Sher
Seabrook Beach, NH

Bill Grabin
Kennebunk, ME

Mike Barron
Hampton, NH
Finalists

Sabrina Napoli
Plum Island, MA
Finalist

Abigail Krolak
Portland, ME
Finalist

Garry Meus
Barnstable, MA
Finalist

Neil Robichaud
New Brunswick
Finalist
Thanks to all who submitted photographs!
Additional Photographs

Aaron Godfrey Parker
Portland, ME

Dawn Hellier
Lubec, ME

John Apte
Wells, ME

Katie McLean
Annapolis Royal, NS

Ken Gross
South Portland, ME

Kristyn Peterson
Portland, ME

Lynn Main
Hampton Harbour, NS

Lynn Main
Hampton Harbour, NS

Maren Bhagat
Hampton, NH

/Marilu Hornak
Seabrook, NH

Mark Slippe
Wolfville, NS

Moira Rose Mahegan
Damariscotta, ME

Nancy Eaton
Kennebunk, ME

Riley Young Morse
Portland, ME

Ryan James Jordan
Portland, ME

Sara Grady
Marshfield, MA

Sarah Scouten
St Andrews, NB

Steve Tinker
St Andrews, NB

Susan Bickford
Wells, ME

Susan Plutsky
Gloucester, MA
As sea level rises, today's king tide is tomorrow's routine high tide. Daily high tides, monthly lunar tides, and intermittent storm surges are all moving steadily higher. It is important to grasp the magnitude and inevitability of this… [while] there is time to plan and adapt.
— John Englander, High Tide on Main Street: Rising Sea Level and the Coming Coastal Crisis
The collaborative Gulf of Maine King Tides Project helps communities in the US Northeast and Atlantic Canada anticipate impacts from rising sea levels. Join in this international effort by helping document—via cameras and smart phones—extreme high tides, which will become average water levels in coming years. Images of King Tides help scientists and planners assess future flood risks and anticipate associated hazards.
This regional volunteer effort—which encompasses much of the shoreline of Massachusetts, New Hampshire, Maine, New Brunswick and Nova Scotia—is part of a global King Tides Network that includes projects elsewhere in the US and Canada, as well as in Australia, New Zealand, Europe and Asia.
The steady rise in global sea levels, recorded by tide gauges around the world, is due primarily to
Sea levels will increase markedly in coming decades, but the rate of increase depends on how quickly the Earth warms and the melting occurs. According to the Intergovernmental Panel on Climate Change, "it is virtually certain that global mean sea level rise will continue for many centuries beyond 2100, with the amount of rise dependent on future emissions."
The Gulf of Maine Council's Climate Network is working with more than a dozen other organizations and agencies to help the region anticipate sea-level rise impacts. Learn more at gulfofmaine.kingtides.net.
Precipitation from extreme events in the GOM region has increased 74 percent since 1958 (NOAA).
Extreme weather already poses economic and ecological challenges, and these events are expected to grow more frequent in coming decades, with precipitation increasing 5-9 percent (IPCC 2013).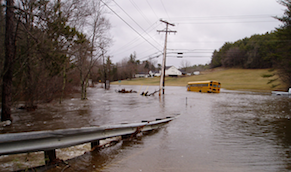 Credit: Sherry Godlewski
By 2050, climate scientists project a more rapid increase of 2.5 to 3.5°C (4.5 to 6.3° F) in regional air temperature (IPCC 2013).
Temperatures in the Gulf of Maine have risen much more in recent decades than many other coastal waters around the world, and a 2012 "heat wave" in sea surface temperatures had damaging economic impacts.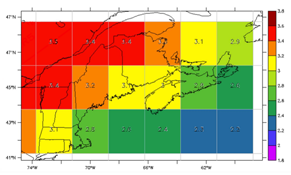 Projected Temperature Changes in the Gulf of Maine Region by the 2050s (°C.), reflecting the most recent IPCC models (Credit: Adam Fenech, UPEI Climate Lab)
What's Climate Change and What's Just the Weather?
This one-minute animation by Ole Christoffer Haga, produced by Teddy TV for the Norwegian Broadcasting Corporation, clearly and humorously illustrates the difference between long-term climate trends and variable weather patterns.