A new Gulf of Maine Council Climate Network study, Municipal Climate Adaptation around the Bay of Fundy: Status and Needs, provides insights into how municipalities are working toward climate preparedness. See the following Executive Summary and a PDF of the full report for more details.
Executive Summary
Communities around the Gulf of Maine and Bay of Fundy are trying to prepare for a future where climatic and ecological conditions may be far less predictable than in recent generations. This study summarizes adaptation measures that municipalities have taken to date, actions they are planning, and resources they need to move forward.
Environment Canada's Health of the Oceans Program funded this research, and the Gulf of Maine Council on the Marine Environment (GOMC) Climate Network completed the study early in 2014. The Climate Network distributed a survey to 37 Bay of Fundy communities (33 of which completed it), and conducted phone interviews with 31 municipal and regional officials. Participants identified five interconnected factors as their primary climate concerns: extreme weather, hurricanes/high winds, inland/freshwater flooding, sea-level rise, and storm surge. The areas of municipal functioning deemed most vulnerable to these impacts were transportation infrastructure and accessibility, stormwater management, wastewater infrastructure, and emergency management.
The vast majority of municipalities are engaged in climate adaptation planning, but less than one-fifth characterize that effort as "active implementation"—with one-third having approved plans but minimal implementation, and another third still in preliminary discussions or plan development. Most of the communities surveyed have completed some assessments to guide planning, particularly in terms of flooding impacts/stormwater management (85 percent), and sea-level rise and storm surge (both roughly two-thirds). Nearly all of the communities reported having both flood mapping and zoning in place or planned that may help mitigate climate impacts. Two-thirds are actively working or planning to improve stormwater management as well.
To date, the municipalities surveyed have sought climate adaptation guidance primarily from provincial agencies and peer networks, with federal agencies and university researchers also a significant resource. In certain areas, regional entities such as planning agencies, nongovernmental organizations, and the Atlantic Climate Adaptation Solutions Association have played a pivotal role in supporting individual municipalities, generating valuable data and encouraging collaboration. Many communities cited the critical support lent by the Regional Adaptation Collaborative (a federal cost-sharing initiative that operated between 2008 and 2012) in jumpstarting climate adaptation planning and providing essential research. Those who had gotten LiDAR data through that program found it of great benefit, and nearly all the study participants voiced a need for further provincial support of LiDAR mapping.
A combination of factors—limited staff time and expertise, stretched budgets, and lack of jurisdictional authority—make it difficult for municipalities to address even well-documented vulnerabilities to climate change. There is strong interest in more ecosystem-based approaches to adaptation, particularly green/living shorelines and sustainable stormwater management techniques, and some municipalities are actively pursuing the latter. In terms of the coastal zone, which falls outside their jurisdiction, municipalities seek both education and active management support from provincial government.
Precipitation from extreme events in the GOM region has increased 74 percent since 1958 (NOAA).
Extreme weather already poses economic and ecological challenges, and these events are expected to grow more frequent in coming decades, with precipitation increasing 5-9 percent (IPCC 2013).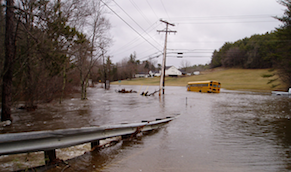 Credit: Sherry Godlewski
By 2050, climate scientists project a more rapid increase of 2.5 to 3.5°C (4.5 to 6.3° F) in regional air temperature (IPCC 2013).
Temperatures in the Gulf of Maine have risen much more in recent decades than many other coastal waters around the world, and a 2012 "heat wave" in sea surface temperatures had damaging economic impacts.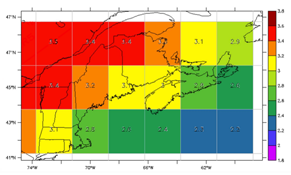 Projected Temperature Changes in the Gulf of Maine Region by the 2050s (°C.), reflecting the most recent IPCC models (Credit: Adam Fenech, UPEI Climate Lab)
What's Climate Change and What's Just the Weather?
This one-minute animation by Ole Christoffer Haga, produced by Teddy TV for the Norwegian Broadcasting Corporation, clearly and humorously illustrates the difference between long-term climate trends and variable weather patterns.