August 2013 ESIP Journal
The Annapolis Basin Integrated Water Quality Forecasting System
Nathan Crowell1, Tim Webster1, William Livingstone1, Greg Rose2
Applied Geomatics Research Group (AGRG), Nova Scotia Community College, Annapolis Valley Campus, Middleton, NS
Golder Associates, Mississauga Ont.
Many coastal areas with rich fishing industries face the challenge of maintaining suitable water quality standards. The Annapolis Basin in Nova Scotia is particularly prone to contamination by land-based fecal coliform bacteria in response to heavy rain events. Contamination levels from rain events force the closure of wild harvest and aquaculture soft shell clam beaches for several weeks each year.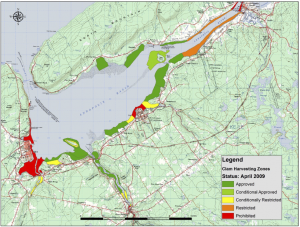 Figure 1. Status of clam harvesting zones within the Annapolis Basin as of 2009 (data provided by Environment Canada).
At the Applied Geomatics Research Group (AGRG; Nova Scotia Community College, Annapolis Valley Campus, Middleton, NS), we have been developing a system to predict water quality in advance of contamination. Each forecast is tailored to provide water quality information for shellfish harvesting sites within the Annapolis Basin and surrounding watersheds. The extent and concentration of contamination is calculated by modeling the movement of fecal coliform bacteria from source to destination over 72 hour forecast periods. We hope to help minimize the impact of contamination by providing better information on major contributing sources and the timing of high-contamination periods.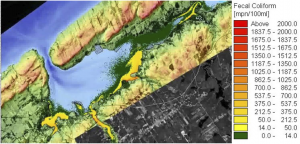 Figure 2. Modeled contamination levels within the Annapolis Basin after a significant rainfall event.
System components are linked by specialized software developed in partnership with GIS software developer ESRI. The system is designed to retrieve input data, run the models, and aggregate the results to produce a forecast every six hours.
Forecasts are planned to be commercially available later this year. Data will be distributed via a web interface produced by project partner GeoNET Technologies Inc. Users are provided with water quality forecast information pertaining to harvesting areas and statistics for seasonal averages.
The system will be available to both industry and regulators from any jurisdiction.
These forecasts are meant to act as an early warning system that identifies and warns the user that a closure period is approaching. A three day window allows the recipient to tailor their schedule to maximize the harvest yield and minimize loss either due to closure or depuration requirements. Regulators can be provided with additional data on the origin of the predicted contamination through source tracking. Source tracking identifies the landward source of contamination entering the estuary from each of the surrounding watersheds and measures the degree to which each contaminant source impacts harvesting zones over the forecast period. Data are archived and used to calculate statistics that identify key contributors of fecal coliform.
To learn more about the project or discuss future opportunities, please do not hesitate to contact:
•    Developer, Nathan Crowell (nathan.crowell@nscc.ca)
•    Scientific authority, Dr. Tim Webster (timothy.webster@nscc.ca)
•    Project manager, Bill Livingstone (william.livingstone@nscc.ca)
Other News in the Gulf of Maine & Bay of Fundy
Past Journals
Febuary 2015 — ESIP releases new smartphone app connecting people in the Gulf of Maine and watershed to the science happening all around them.
November 2015 — The launch of a marine debris program in the Bay of Fundy.
September 2015 — Climate Change Products for Atlantic Canada.
July 2015 — An update from the April 2015 State of the Bays Symposium in Massachusetts.
June 2015 — Learn about NH Department of Environmental Services' work with 65 volunteers to improve beach grass coverage at Hampton Beach State Park.
May 2015 — Nova Scotia recently released risk ratings for storm serge and sea level rise for all portions of the Province - this journal summarizes the findings
April 2015 — Learn about an exciting project between ESIP and EPA that seeks to unravel upstream pressures on downstream estuaries
February 2015 — Meet the new Project Leader for the Gulf of Maine Coastal Program in Falmouth, Maine - Jed Wright.
January 2015 — New Smart Tour of Great Marsh - largest continuous stretch of salt marsh in New England, extending from Cape Ann in Massachusetts to New Hampshire
December 2014 — The American Lobster Settlement Index is an important project that assesses current lobster fishery condition in both Canada and the US. The dataset is current and available through the ESIP Indicator Reporting Tool
Click here for all past ESIP journals