April 2014 ESIP Journal
ESIP is excited to announce we are releasing an updated Monitoring Map web tool available on the ESIP webpage (http://www.gulfofmaine.org/2/esip-monitoring-organizations-2/). The new version of the Monitoring Map contains over 13,000 separate monitoring sites with associated information served on a Google Earth platform. Sites are clustered together at the zoomed out level (notice the number in the pins – that is the number of sites that pin represents!). When you zoom into an area of interest the sites separate out to give the user a better visual for where monitoring is occurring. This is our solution of the "too many points on a map" syndrome that many of us encounter when we try to map out our information. Be sure to check it out! An updated User's guide in the form of a slideshow is also available with the web tool, in case you get lost while navigating. If you would like to add your own programs to the map, connect with Christine Tilburg, ESIP Program Manager.
You can follow ESIP and other Gulf of Maine Council news by liking the Council on Facebook or by following the Council's Twitter @GOMCNews!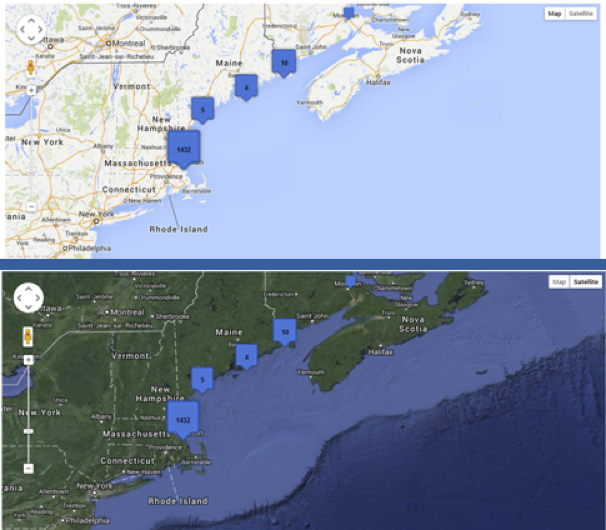 Other News in the Gulf of Maine & Bay of Fundy
Past Journals
Febuary 2015 — ESIP releases new smartphone app connecting people in the Gulf of Maine and watershed to the science happening all around them.
November 2015 — The launch of a marine debris program in the Bay of Fundy.
September 2015 — Climate Change Products for Atlantic Canada.
July 2015 — An update from the April 2015 State of the Bays Symposium in Massachusetts.
June 2015 — Learn about NH Department of Environmental Services' work with 65 volunteers to improve beach grass coverage at Hampton Beach State Park.
May 2015 — Nova Scotia recently released risk ratings for storm serge and sea level rise for all portions of the Province - this journal summarizes the findings
April 2015 — Learn about an exciting project between ESIP and EPA that seeks to unravel upstream pressures on downstream estuaries
February 2015 — Meet the new Project Leader for the Gulf of Maine Coastal Program in Falmouth, Maine - Jed Wright.
January 2015 — New Smart Tour of Great Marsh - largest continuous stretch of salt marsh in New England, extending from Cape Ann in Massachusetts to New Hampshire
December 2014 — The American Lobster Settlement Index is an important project that assesses current lobster fishery condition in both Canada and the US. The dataset is current and available through the ESIP Indicator Reporting Tool
Click here for all past ESIP journals