GOMC's Habitat Restoration Program
Since 2002, GOMC's Habitat Restoration Program has contributed grant funding and technical assistance to 120 projects in Maine, Massachusetts, New Hampshire, New Brunswick and Nova Scotia. Our projects seek to reverse impacts to impaired coastal wetlands and streams so they can once again function as ecologically diverse and economically supportive natural systems. We use proven restoration methods that consistently lead to successful outcomes. The benefits of our projects extend not only to high value species and habitats, but they also provide local engineering and construction jobs and lead to conditions supportive of outdoor recreation and tourism opportunities.
Restoration in Action
About half of our projects support engineering necessary for construction projects or field studies to determine where restoration investments are best applied. The other half fund construction projects like stream barrier removals, fishways and other "on-the-ground" restoration activities including planting of riparian areas, eelgrass meadows, and shellfish beds.
Habitats restored or enhanced with GOMC contributions since 2002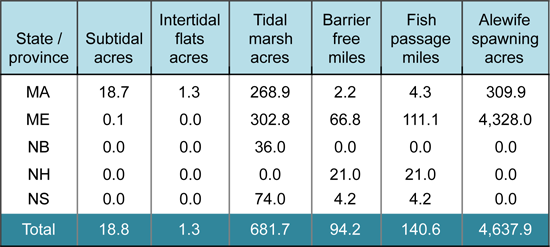 Notes:
1 These figures underestimate GOMC's restoration impacts because they don't capture habitat gains that were facilitated by engineering studies or assessments we've funded.
2 Stream mile estimates are conservative because they assume that most road crossings upstream of project sites are barriers or partial barriers.
Restoration Leadership and Collaboration
In addition to supporting the planning and implementation of restoration projects, GOMC's development of restoration tools, methods, outreach and regional strategies increases awareness of habitat needs and promotes the use of rigorous practices for practitioners. As a result, GOMC plays an important role as a consistent regional leader and a steadfast partner to both organizations new to the field of restoration and those with more experience.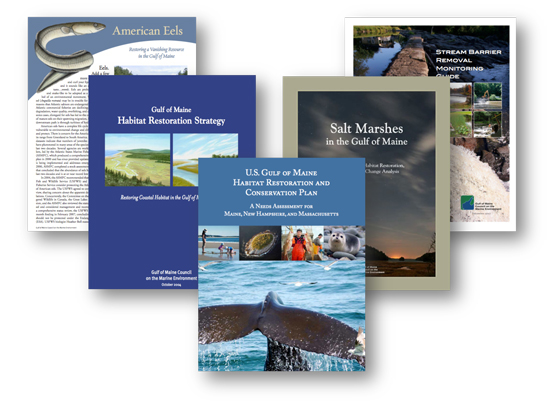 Our Partners in Restoration
To successfully meet the demands of a regional grant and technical assistance program that manages up to 20 active projects simultaneously, GOMC partners with a team of Jurisdictional Representatives and Technical Leads from state and provincial agencies around the Gulf and also our colleagues from the NOAA Restoration Center. Given our community focus, we also work closely with local groups and municipalities, in addition to the agencies, organizations and individuals with an interest in site-specific projects. We're particularly glad to acknowledge the organizations that directly provided funding and in-kind support for our Restoration Grants Program over the past several years:
NOAA Restoration Center, National Marine Fisheries Service
Royal Bank of Canada
Corporate Wetlands Restoration Partnership – Massachusetts
Corporate Wetlands Restoration Partnership – New Hampshire
Corporate Wetlands Restoration Partnership – Maine
Corporate Wetlands Restoration Partnership – National
Coastal America Foundation
Maine Community Foundation
New Hampshire Charitable Foundation
Jesse B. Cox Charitable Trust
Maine Coastal Program, State Planning Office
Massachusetts Division of Ecological Restoration, Department of Fish and Game
New Hampshire Coastal Program, New Hampshire Division of Environmental Services
New Brunswick Department of Environment
New Brunswick Department of Agriculture, Fisheries, and Aquaculture
Habitat Restoration Committee
For the full list of the Habitat Restoration Committee, click here.  For a brief on the Habitat Restoration Program, click here.  For more information on GOMC's Habitat Restoration Program, contact:
Slade Moore
Habitat Restoration Coordinator
slade.moore@bioconserve.net
207-837-3805