Guidelines, Codes of Conduct and Preferred Practices: Eutrophication
Click here for the Eutrophication theme page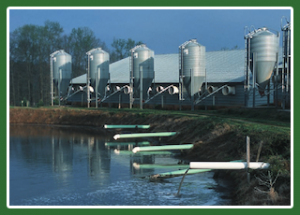 The linked documents are maintained by outside agencies and are provided for information purposes. They are not endorsed by the Gulf of Maine Council on the Marine Environment. The linked documents may recommend techniques that do not meet the requirements of Gulf of Maine Council member agencies. They may also contravene regulations in readers' jurisdictions. Before undertaking activities, readers should check laws, regulations and guidelines in their home jurisdiction. The supporting agencies do not make any warranty or representation, expressed or implied, with respect to the accuracy or completeness of the information.
Best management practices to minimize agricultural phosphorus impacts on water quality
Issues: pollutant/contaminant removal and containment
http://www.sera17.ext.vt.edu/Documents/BMPs%20for%20P,%20ARS%20163%202006
The application of phosphorus is a common practice in many types of agriculture but it can result in eutrophication if phosphorus enters water bodies. This guidebook, prepared by the U.S. Department of Agriculture, covers techniques for controlling phosphorus at the source, transportation of phosphorus, and the implementation of phosphorus BMPs.
BMPs for sediment control and water clarity enhancement
Issues: pollutant/contaminant removal and containment, stormwater management, coastal erosion, habitat restoration
http://www.chesapeakebay.net/content/publications/cbp_13369.pdf
The Chesapeake Bay Program has developed this manual of BMPs that would be informative for coastal landowners, municipalities, and state/provincial governments. This manual focuses on buffers, urban stormwater management, structural erosion controls, and oyster reef restoration.
Best management practices: Agricultural waste management
Issues: Pollutant/contaminant removal and containment, agriculture
http://www.gov.pe.ca/photos/original/af_bmp_wastemgt.pdf
If not properly managed, agricultural waste can result in contaminants entering the environment. This Prince Edward Island document makes recommendations for livestock/poultry waste management, milkhouse waste management, livestock pasturing, waste forage, seepage from farm silos, dead stock disposal, vegetable waste management and farm plastics disposal.
Wellcare information for you about protecting groundwater through agricultural best management practices
Issues: Pollutant/contaminant removal and containment, agriculture
http://www.watersystemscouncil.org/documents/AgriculturalBMPOverview.pdf
This is a series of guidelines for the protection of groundwater from agriculture prepared by a non-government organization, the Water Systems Council. This document covers everything from pesticide use and excessive nutrients on pastures to manure on streams and leakage from storage tanks.
Addressing microbial pollution in coastal waters: A reference for local governments
Issues: stormwater treatment/management, pollutant/contaminant removal and containment
http://www.nccoastaltraining.net/web/ctp/publications
Produced by the North Carolina National Estuarine Research Reserve, this document was created as a reference for municipalities. Wet ponds are permanent pools of water that enhance the removal of pollutants by temporarily detaining stormwater and are of particular interest within this chapter.
Funding and Support
Funding and in-kind support for this Guidelines and Codes of Conduct website was provided by Environment Canada, Fisheries and Oceans Canada, Nova Scotia Department of Fisheries and Aquaculture, Massachusetts Office of Coastal Zone Management and the Maine State Planning Office.
Photo: USDA