Print
When you work on the water for many decades, you see changes. At least, that has been the experience of Gregory Thompson, of Dipper Harbour, New Brunswick.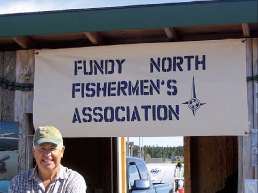 Greg Thompson, president, Fundy North Fishermen's Association.
Courtesy: Fundy North Fishermen's Association
Thompson, 61, started as a herring weir fisherman back in 1973 during his summer breaks from university. Now he lobsters in the Bay of Fundy, with the occasional scallop and groundfishing trips during the months closed to lobstering.
"I first went out on the boat with my father, who died quite young. Then in grade 12, I started tending my grandmother's share in a herring weir," Thompson said. His grandfather and great-grandfather also fished the area off Dipper Harbour.
Herring weirs once dotted the shoreline along Passamaquoddy Bay and the Bay of Fundy. The brush and twine structures captured herring as they migrated along the coast during the summer and fall months.
Herring swim near shore at night. A fence leads them into a weir's structure, where the design directs them to the center and prevents escape. The herring captured in the family weir were smoked, canned as sardines or used for lobster bait.
The Thompson herring weir was divided into three shares. Thompson's grandmother ultimately gave him her share. Over several years he bought out the other two family members' shares.
"I tended that weir all through the 1970s and up to the late 1980s," Thompson said. "There are only two or three left now in this area. There used to be many more."
Getting herring from a weir is not a job for those in a hurry.
"You wait for the fish to come to you, so you need lots of patience," Thompson explained. "Now everyone wants to rush out to go to the fish."
He believes weir fishing remains one of the few fishing methods that ensure a high quality catch. "You can leave them there [in the weir] for a few days to a few weeks in top condition if you need to," he said.
When the herring ceased to come to Dipper Harbour, the Thompson family's long history of weir fishing came to an end.
"My sons were helping me before they went off to university" in the early '80s, Thompson said. "We rebuilt it [the weir] for five years and during that time managed to meet our expenses. Then we rebuilt it for five years again and never caught a fish. Not one."
By the late '80s, neither Thompson nor his three sons could see any future in herring fishing. Thompson thinks the change in herring behavior might be related to the amount of food available for the schools.
"The volume of fish is not as great as before and this is not as desirable an area for them," he explained. The herring follow the food and the plankton are not here. Passamaquoddy Bay (where weirs are still used) has always been the best place in the Bay of Fundy."
While working as a commercial fisherman and raising his family, Thompson found time to help found the Fundy North Fishermen's Association, a non-governmental organization that speaks for approximately 70 fishermen in the area.
"I thought that fishermen should have some control over their destiny," Thompson explained, recollecting his earliest involvement with the organization. "We are all independent businessmen. We must have some forum to work with the government to get what's best for the fishery."
Thompson has expanded his concern for the Bay of Fundy fishing community to other venues as well. He sits on the New Brunswick Department of Fisheries' Round Table on Fisheries as well as the Fisheries Resource Conservation Council, which advises the federal Department of Fisheries and Oceans' Minister. And he received the Gulf of Maine Council on the Marine Environment Visionary Award in 2007.
"It's a lot of hours and a lot of miles," he said of his involvement in fisheries management.
Thompson's current concern is the status of the Bay of Fundy lobster population. While it appears to be robust, Thompson argues that it alone supports all the other fisheries in the area.
"They [scallops, groundfish, herring] have declined so much, you can't make a living as a groundfisherman or a herring fisherman," he said. "They are no longer stand-alone fisheries." If lobster landings drop abruptly, then the economy of the fishing communities will be "decimated," Thompson said.
He began the fall lobster season on November 10 and will fish until it closes on January 15. "The price is $3.75 a pound, which isn't good. And the volume thus far is down noticeably," Thompson said.
Is this a harbinger of the change Thompson hopes will never come? He doesn't know but, as a 30-year observer of the Bay of Fundy, Thompson will certainly be among the first to notice if it is.
Print