Print
Many environmental organizations aim to educate the public about important nearby natural resources, but the Coastal Livelihoods Trust also wants students to understand how dependent local residents are on the Bay of Fundy for their living.
"We engage the coastal communities in the resource-based stewardship of their resource-based livelihoods," explained Sarah Bood  of Coastal Livelihoods Trust in St. Andrews, New Brunswick. "They are learning more about how their families' livelihoods depend on the Bay of Fundy."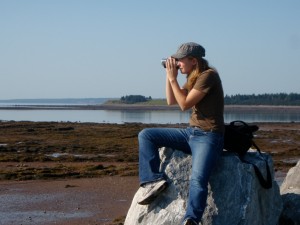 Sarah Bood with her first camera, used to make the "Lobster Fishing on Deer Island" film for the program.
Our Bay, Our Future is a program for elementary schools, three years in the making, that's been introduced to schools in Charlotte County.
"We focus on fishing, aquaculture, and First Nations," said Bood. "We have guest speakers that include marine biologists, scuba divers, fishermen, fish farmers — all telling students why the bay is important to them." For instance, aquaculturists explain to students why they monitor the bottom under fish pens.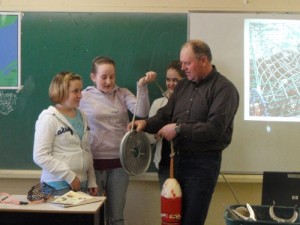 Dale Mitchell, fisherman with three students from Campobello grade 6 class.
Bood studied for a master's degree in environmental resource management at Dalhousie University before she spotted a sign advertising a job to make a movie and live in New Brunswick.
"I had never seen New Brunswick and I didn't know much about film-making," Bood said. "But a film company in New Brunswick helped me make the first film."
Now she makes the films, introduces them and the guest speakers to the class, then afterward, the students discuss what they have just learned.
The Coastal Livelihoods Trust was conceptualized by a group of residents that included an environmentalist, three fishermen, a Passamquoddy chief, and eco-tourism operator, a social justice advocate and a community organizer. They were aided in starting the program by the province, the New Brunswick Wildlife Trust Fund, Environment Canada's EcoAction Program, Mountain Equipment Co-op and the Henry P. Kendall Foundation.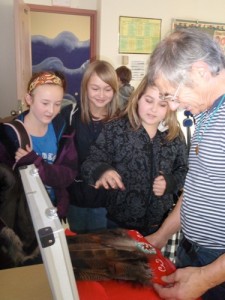 Chief Hugh Akagi show three students at St. George his traditional headdress made of turkey feathers
"The classes instill a sense of pride in being coastal residents and they learn more about their culture," said Bood. The 15-minute films she makes and shows to classes try to portray "a holistic perspective," she said.
For instance, for a film on a Deer Island fishermen, she followed him through a typical day at work.
"The island kids really responded," she said. Information about five of the films are on the group's website. The lobster fishing film was a big hit and has been sent out for other organizations to show.
The Passamaquoddy film, "A Tree on the Water," about canoe-making was shared with Environment Canada and the agency has been showing it to various groups. Other films focus on halibut, weir fishing and eco-tourism.
"We do beach cleanups with the kids. We had four schools involved. The kids were impressed by the amount of garbage they found."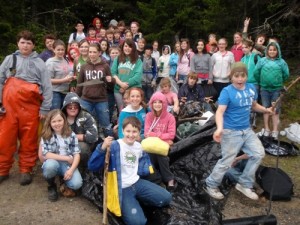 All three grade 6 classes from St. George pose for a group shot, Mr. Kernighan, Mrs. Dakai and Mrs. Munn's class are included. More than 50 students cleaned up Frazer's beach.
As part of the curriculum, students go on other kinds of field trips as well, and Bood said when she asks them what they would like to have more of in their classes, they always say "field trips."
"I'm going back to get a teaching degree," Bood added. "There are so many elements to this."
Michael Borthwick, Dawson Borthwick, Ashton Chase Art Work
Print