Print
Thinking sustainably, selling locally
At a winter farmers' market one recent Saturday in Brunswick, Maine, Gretchen Bates leaned over her griddle, flipping samples of her homemade fish, crab and salmon cakes.
Curious shoppers, perusing the market's offerings of eggs, potatoes, hot house-raised greens, baked goods and other fare available during the non-growing season, snapped up the seafood as fast as Gretchen could pass them from the griddle to paper plates set out at the front of her table, each tiny cake impaled with a toothpick for easy sampling.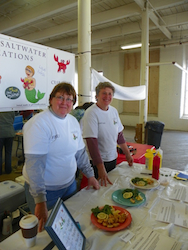 Figure 1. Gretchen Bates and Laura Fillinger, of Maine Saltwater Creations
For Bates and her partner, Laura Fillinger, limiting their seafood purchases to fish and shellfish harvested from the Gulf of Maine makes sense. It fits their personal philosophy that buying local supports the local economy.
"We try to buy all of our ingredients locally, and hope that it also makes sense from a business point of view," said Bates. But Maine Saltwater Creations of Yarmouth, Maine, Bates and Fillinger's retail and wholesale seafood cakes business, grew more from demand for the product than idealism.
The two had been making fish, crab and salmon cakes for years – just to give away to friends and family. As requests piled up, they realized they had the beginnings of a new business, selling their products to the public. The fact that their tasty morsels are made from fish and shellfish harvested in the Gulf of Maine is a selling point for many of their customers.
Phil Gray, selling mussels at the same winter farmers' market, agrees that customers are looking for local seafood.
"We have a very good consumer market for locally harvested seafood." Referring to glistening displays of his shiny blue-black product, he added, "People ask – where are they harvested?"
He is happy to tell them that he harvests the bivalves by hand in the clean, cold waters of the nearby New Meadows River. Unlike Bates and Fillinger, Gray sells a raw product. He notes that it is not a simple process for fishermen to sell directly to the public; regulations require harvesters to have dealer and or processing permits or to work with those that do.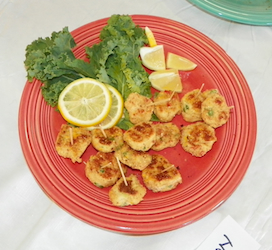 Figure 2. Samples of Maine Saltwater Creations' salmon cakes
Gray has built a customer base by handing out recipes and promoting the local nature of his product. He points out that the seasonal nature of seafood harvesting is a challenge for consumers who are used to getting what they want, when they want it. He hopes consumers will come to recognize that some kinds of seafood, like some local fruits and vegetables, are only available at certain times of the year or during good crop years.
CSFs, sharing catches, risk
Another form of direct marketing for Gulf of Maine seafood is a Community Supported Fishery (CSF). Based on the popular Community Supported Agriculture (CSA) model in which customers pay in the spring for a share of the upcoming year's harvest from a local farm. Share owners share in the risks of farming as well as the rewards.
The produce they receive each week is a function of what the farmer has been able to grow and is affected by the seasonality of the crops – and the vagaries of weather, pests and disease. CSFs work much the same way; the weekly share is affected by the weather, the seasonal availability of various species, regulations controlling harvests, and the composition of the catch.
First conceived and implemented by the Midcoast Fishermen's Association (MFA) in Port Clyde, Maine, the CSF concept has spread to Atlantic Canada. Beau Gillis, who fishes out of Freeport, Nova Scotia, said, "I've read Michael Pollan's The Omnivore's Dilemma and see the same thing happening to fishing as has already happened to farming. And I want to be a part of stopping it."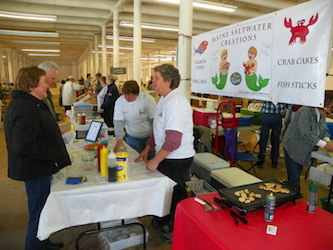 Figure 3. Gretchen Bates and Laura Fillinger, of Maine Saltwater Creations, work the crowd at the winter farmers' market in Brunswick, Maine
Gillis is a hook and line fisherman, targeting groundfish in the Bay of Fundy. Gillis and the other members of his cooperative connect with seafood consumers in greater Halifax through the "Off the Hook" CSF. Their website (http://www.offthehookcsf.ca/) touts the many benefits of investing in a share of their CSF, including supporting local communities, promoting sustainable fisheries, and enjoying exceptionally fresh and high quality fish.
The Northwest Atlantic Marine Alliance (NAMA), a nongovernmental organization committed to the restoration of the marine ecosystems and small boat fisheries, has pioneered "seafood throwdowns," a novel approach to promoting local seafood.
Partnering with Cape Ann Fresh Catch, a CSF based in Gloucester, Massachusetts, NAMA organizes cooking competitions to showcase locally caught fish. Conducted at the local farmers' market, the seafood throwdown pits two local chefs against each other to see who can make the most delicious dish from the same species of fish, provided by a local fisherman.
The chefs buy any other ingredients they need at the farmer's market and have 30 minutes, working on site at the market – in full view of one another and the public – to create a mouthwatering seafood dish. The winner of this food fight is decided by judges who dine on the chefs' efforts before announcing the winner.
"We have been delighted with the reception from the community and the conversations we've had about sustainably caught seafood right off of our own waters here in Gloucester," said Niaz Dorry, director of NAMA. The group now organizes seafood throwdowns throughout the northeastern United States.
What's sustainable?
Tension exists between the push by national and international groups for third-party certification of sustainably harvested fisheries and promotion of locally sourced seafood. What does "sustainable" mean in the context of fisheries? Proponents of local foods argue that the definition should include geographical proximity between the consumer and the producer.
A new certification scheme, created by the Gulf of Maine Research Institute (GMRI) in Portland, Maine, would seem to bring the two concepts together. The organization has established a "Gulf of Maine Sustainably Caught" brand that recognizes that some consumers want not only sustainably harvested fish but also to know where that fish was caught.
According to Jen Levin, sustainable seafood program manager for the GMRI, the brand "lets consumers know that an objective science institution has verified responsible harvest and traced the product to the Gulf of Maine." The new brand has been applied to date to four species: cod, haddock, lobster and northern shrimp, but Levin expects other fish and shellfish to be added soon.
The burgeoning local foods movement has given momentum to direct marketing of seafood from the Gulf of Maine. Local seafood sales now constitute a small part of the region's seafood economy. but it is a part that is poised for growth.
Websites:
Northwest Atlantic Marine Alliance (NAMA)
http://namanet.org/
Gulf of Maine Research Institute
http://www.gmri.org/
Off the Hook CSF
http://www.offthehookcsf.ca/
Cape Ann Fresh Catch
http://www.capeannfreshcatch.org/
Midcoast Fishermen's Association
http://www.midcoastfishermen.org/
Print