About
Boston Harbor Islands Data in a Nutshell
KnowledgeBase (KB) is a catalogue of documents, maps, data and other information for the Gulf of Maine and its watershed (the Gulf of Maine extends from Nova Scotia to the Cape Cod region).
Think of KB as being a library — inside this library are a number of special collections*. The information about Boston Harbor Islands that you access from these pages is one of these special collections. You can access the Boston Harbor Islands information from either this site or from KB's home page.
* Special collections, currently in development, focus on Boston Harbor Islands, Acadia National Park, Maine Lakes and Diadromous Fish and Freshwater Biodiversity — all will released in early 2010.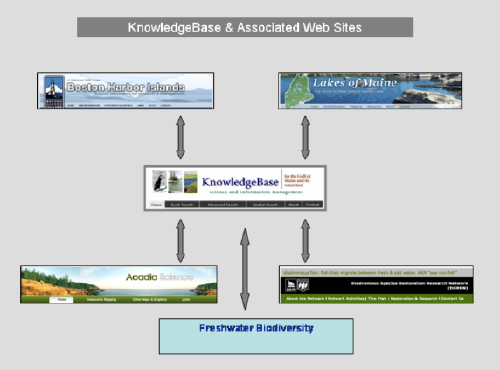 Click image to zoom.
If there are documents or data sets that you would like to add to KB, please contact us at