Boston Harbor insect census:
Looking to tiny creatures to tell
the big story on the environment
By Lori Valigra
THEY STING, CRAWL ON PICNIC FOOD and buzz around your ears when you hike. They also pollinate flowers, serve as food for other species and act as predators. Lowly insects may find themselves elevated to an even larger role in the future: as indicator species for changes in the environment.
Scientists at Harvard University and elsewhere are studying a relatively self-contained area in Massachusetts to create an All Taxa Biodiversity Inventory, or ATBI, of insects within the Boston Harbor Islands national recreation area. The researchers are developing a database at Harvard with high-resolution images and descriptions of insects—they already have more than 900 entries—present in the recreation area. The hope is that one day the insects can inform them of extinctions of plant or animal species, invasions of non-native species and even the impacts of changes in climate. But first, they have to find and identify which insects are present..
---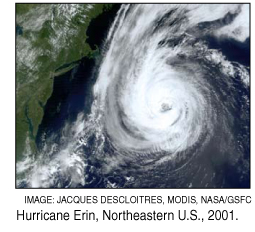 Hurricanes: Preparing for the next big one
By Susan Llewelyn Leach
It's a potentially dangerous combination: big hurricanes that rarely make landfall, untold damage when they do and a population largely blasé about the whole prospect. In the Gulf of Maine, where the last Category 3 hurricane (winds of 111-130 miles per hour or 96-113 knots) hit more than a half century ago, mobilizing public interest has been a slow sell. David Vallee knows. The National Weather Service meteorologist, who is located in Taunton, Massachusetts, has been chipping away at that nonchalance for 10 years now. With another hurricane season set to begin June 1, he said, "We have a very inexperienced population that has not had to deal with the impact of a major hurricane. People haven't considered being without electricity for a week or two," he said.
The challenge of raising public awareness is perhaps even more acute in the Canadian provinces. When Peter Bowyer, the program manager of the Canadian Hurricane Centre (CHC) in Dartmouth, Nova Scotia, introduces himself to people, he says they look at him as though he just said, "I'm the coach of the Jamaican bobsled team." The unspoken question is always, "Why would Canada ever need a hurricane center?"
An Environment Canada study in 2004 answered that question. Called A Climatology of Hurricanes for Canada: Improving Our Awareness of the Threat, the study looked at the frequency of hurricanes in the Atlantic over the last 50 years of the century. The numbers near Nova Scotia were on par with Florida and Cuba. And the highest count in the entire Atlantic fell inside the CHC's Response Zone. The difference was in the strength. On the coast of Nova Scotia there were no Category 3 to 5 hurricanes (see Saffir-Simpson hurricane scale box) during those 50 years, whereas Florida and Cuba saw many major storms.

Profile: Heather Leslie
Making a mission of resilience science
By Kirsten Weir
Heather Leslie is something of a split personality—in the very best way. One day you'll find the Brown University scientist on the rocky New England coast, studying tide pool tenants like barnacles and sea stars. The next day she'll have turned her attention to mathematical modeling and theoretical thinking as she immerses herself in the burgeoning field of resilience science.
Resilience science is the study of the ways ecosystems respond to disturbance. Can a damaged wetland absorb an ocean storm surge? Will an overfished swath of ocean collapse into a barren seascape? Finding answers to such big-picture questions can be dizzyingly complex. "The resilience work is a bit more conceptual than what a lot of people think of as 'science,'" Leslie said. Yet as the field matures, resilience thinking is becoming an increasingly important tool for managing our fragile coasts.

---
Rejuvenating the Penobscot to make way for salmon, other sea-run fish
By Elizabeth McGowan
Bob Croce began trying to tease Atlantic Salmon from Maine's Penobscot River in his early 20s. He didn't land what he's christened a noble fish until almost a decade had passed and he'd clocked 76 solo hours combing the waters of New England's second-largest river.
It was Father's Day 1976 when a friend helped him net that unforgettable 15.5-pound (7-kilogram) fish at the famed Bangor Salmon Pool.