Volunteer for a survey cruise in the Gulf and 'sea' for yourself
Woods Hole, Massachusetts "Grandma's house has stairs, ships have ladders." Maybe this isn't the most important information I brought back with me after a week aboard the Albatross IV, but it's the sort of seagoing turn of phrase that sticks with a first-time sailor just the same.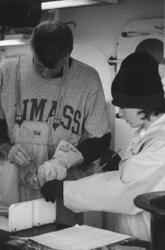 I signed up as a volunteer on the final leg of the National Marine Fisheries Service (NMFS) spring groundfish survey in the Gulf of Maine to get a first-hand look at how scientists collect information used in assessing stocks for fisheries management. I wanted to glimpse life at sea. I got an eye full, though good weather and quick progress cut our trip from two weeks to one.
My future father-in-law began calling me "Old Salt" weeks before my departure, but the truth is, until the Albatross IV (a 187-foot/57-meter stern trawler) pulled away from the dock in Woods Hole on April 13, my seagoing experience had been limited to day-long nature cruises. But when I joined my watch-mates on a rolling deck, bundled in layers under our Helly Hansens, picking shrimp and herring out of a pile of mud hauled up in a trawl net from the night-time waters somewhere off the coast of Maine, I felt I could say with a much straighter face that I'd been to sea.
Students, writers, researchers, and others with a taste for salt air have taken advantage of available berths on Northeast Fisheries Science Center (NEFSC) surveys along the Atlantic coast and in the Gulf of Maine. Participants in our trip included Joe Kunkel, a University of Massachusetts researcher studying cod populations; Dan Doolittle, a frequent volunteer, and self-described "kid with a science degree looking for work in New England"; and me. Accustomed to working with green participants (in more ways than one) on these trips, the scientists and crew members aboard Albatross IV were infinitely patient and supportive.
The romance of the open ocean can be palpable. Sky, wind, and water create moments of poetry to be collected and brought home like seashells. Frequently, striking forms of marine life unusual starfish, anemones, and other creatures appeared in our catches. And living in what seems a sort of floating village adds another dimension to the trip. As NEFSC scientist and veteran sailor Linda Despres, says, "You get to know people on an intimate basis. You don't have the influence of television out there. You really get to talk to people. You're looking your worst and feeling your most vulnerable. It's a very interesting experiment out there."
Despres sees survey cruises as a form of escape. "You eat, sleep, and work. It's reduced to the basics. You don't worry about money, you don't worry about how you look." She finds that her time at sea has helped her clarify priorities at home. "I like to keep things simple."
But a survey cruise is not a luxury vacation. Warmth and water-resistance become primary wardrobe considerations. Tossing and turning in your sleep takes on a new significance, even in relatively calm seas. And the hours of sampling work can be tedious and grisly.
While "recorders" log the pertinent information, scientists working as "cutters" measure fish, weigh them, and slice them open. Stomach contents are examined and scales and certain bones are removed for further scrutiny back at NEFSC's Woods Hole lab.
A recorder myself (new sailors usually get this assignment), I became immersed in the repetitiveness of scientific sampling. But occasional surprises relieved the monotony. The Tuesday after Easter, we discovered the remains of a holiday ham dinner in a hake's belly a source of great amusement among those of us teetering on the edge of sleep-deprivation.
As unglamorous though the work may have been, Albatross IV featured creature comforts that many career mariners must leave ashore. Movies and e-mail helped pass the time between six-hour watches and survey stations. And first-rate meals inspired those of us still getting our sea legs to move past the crackers-and-gingerale stage until even the least-seasoned among us handled the swells like an Old Salt.
To learn more about NEFSC survey cruises, contact John Galbraith at 508-495-2392 or visit http://www.wh.whoi.edu/nefscnf.html the NEFSC web site.