Top Stories
Sea birds of Atlantic Canada face peril from oil pollution
But polluters beware: there are eyes in the skies
By Andi Rierden, Editor

As fall streams forward, a family of birds known as auks, or alcids, traverse down the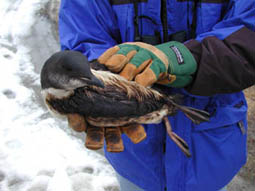 Once an oiled bird like this murre comes ashore, it indicates thousands more may be in jeopardy at sea. Photo courtesy of Tony Lock, Environment Canada

icy waters of Atlantic Canada to wintering grounds as far south as the northern Gulf of Maine. They are not adept fliers. Small-winged, the sea birds never soar but fly low over the water with continuous whirring wingbeats. Instead, auks possess an extraordinary ability to "fly" underwater in pursuit of food. At sea, the birds probably seek out patches of small fish or zooplankton by looking for surface slicks, subtle water features that might indicate prey below.

Apart from breeding in colonies on isolated islands and coastal cliffs, experts say these sea birds are loath to come to land, and only something as awful as being coated with oil will bring them to shore. And that is why sea bird ecologists in Atlantic Canada are deeply worried.


As sure as the auks will migrate each fall–some like the thick-billed murre to wintering grounds in southern Newfoundland, others like the razorbill to waters off Grand Manan Island, New Brunswick–tens of thousands will be poisoned by oil pollution en route. Experts say the fact that the birds are divers more than flyers makes them particularly vulnerable.

...more...

---
Wind, rain and tides aside, kayakers' journey
eased by apple pies and common concerns

By Andi Rierden, Editor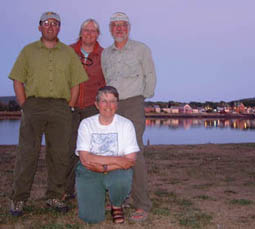 In Annapolis Royal, NS: Rich MacDonald, Natalie Springuel, Dan Earle and Sue Hutchins (kneeling)
Photo: (c) 2002 The Spectator, reprinted with permission

"Where are they now?" I was asked the question dozens of times this past summer through e-mails and phone calls from Gloucester, Massachusetts to Digby, Nova Scotia. The well wishers had seen the newspaper, radio and television stories about a team of kayakers voyaging through the Gulf of Maine, and like countless others throughout the region they were hooked. Natalie Springuel and Rich MacDonald from Maine and Dan Earle and Sue Hutchins from Nova Scotia, set out in early May with one mission in mind: to educate the public about the health of the Gulf of Maine and its interconnection to each and every resident living within its watershed. And educate they did. By the time the team reached the southern tip of Nova Scotia some 1,200 miles later on September 28, they had spoken to thousands of individuals including grade school children, politicians, fishers and local residents both in random encounters and in scheduled public presentations. "We are simply sharing what we have seen along the way, without a political agenda," Sue Hutchins told me when I met the team in Nova Scotia last August. Their unbiased approach worked. Throughout their journey, the team drew diverse crowds curious to hear the kayakers' "fly on the water" impressions of the Gulf's air and water quality, marine life and residential development, to name a few. Others, like the vacationer I met when the team visited Annapolis Royal simply wanted to know, "So what is this Gulf of Maine, anyway?"


The early part of the trip was plagued with weather woes, including two nor'easters. In New Hampshire, the team had to cancel a much-anticipated kayaking trip to the Isles of Shoals six miles out to sea because of high winds. Heavy fog, winds and tides forced them to hire a lobster boat to ferry them half way across the Bay of Fundy from Alma, New Brunswick to Cape Chignecto. They then kayaked through fog for ten miles to mainland Nova Scotia in an area frequented by fishing boat and barge traffic. Perhaps the biggest disappointment came when Hurricane Isidor forced the team to end its journey four nautical miles from its final destination.


But once ashore the team encountered endless and often unexpected generosities, from home made pies and Internet access to a short course in weir operations. In case you missed the team when they visited your area, the following excerpts and images will give you a glimpse of their historic journey.


---
Stellwagen Bank:
Public meetings explore future of federally
protected marine area
By Maureen Kelly

The effects of trawling on sea floor habitat, more protections for marine mammals and concerns about overregulating the shipping and fishing industry, were among some of the topics debated in a series of public meetings along the New England seacoast in September and October on the future management of Stellwagen Bank National Marine Sanctuary (SBNMS). Created by Congress in 1992, Stellwagen is one of thirteen U.S. marine sanctuaries, encompassing an area about the size of Rhode Island at the mouth of Massachusetts Bay, between Cape Ann and Cape Cod. It is the only permanent federally protected marine area in the Gulf of Maine.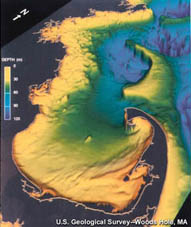 Stellwagen Bank sits like a wall at the edge of Massachusetts Bay, forcing water from the Gulf of Maine and waters inside the bay around its edges and over its surface.

Stellwagen's varied topography, which features a bank roughly the shape of a banana with water depths ranging from 65 to 300 feet [20 to 91 meters] on its western edge and dropping to more than 600 feet on the east, provides habitat for a diverse array of marine life. In spring and summer, endangered North Atlantic right whales, humpback whales and fin whales use the area as feeding grounds.


Despite its protected status, a variety of human activities occur within Stellwagen's boundaries. Stellwagen is used for commercial and recreational fishing, scientific and educational purposes, whale watching, and recreational boating. The main shipping lane for vessels entering the port of Boston cuts through the sanctuary.


Underwater archeology is a growing area of interest in Stellwagen as well, as evidenced by the discovery last summer of the steamer Portland, which sank in a gale in 1898. Although shipwrecks are the current focus of archaeological efforts, Stellwagen's waters may be covering other cultural resources including pre-historic remains from the days when Stellwagen was dry land, said Craig D. MacDonald, superintendent of SBNMS.


As the National Oceanic and Atmospheric Administration (NOAA) revises its management plan to protect Stellwagen's wildlife, natural and cultural resources, the agency's administrators have the challenging task of considering the concerns of all who use the sanctuary's resources. The plan, now under review, is a "blueprint for all the activity" that goes on in Stellwagen, MacDonald said. He added that the "scoping" meetings held this fall aimed to "understand everyone's interests" and to determine if there are overlapping concerns among various stakeholder groups.


As steward of this ocean area, NOAA is "trying to weave the bigger picture," said Katrina Van Dine, SBNMS management plan coordinator. "This is more than just fisheries issues."


"A lot of people care deeply about the ocean," she added, explaining that NOAA is considering broader issues of ecosystem management.