Vol. 3, No. 4
Contents
Headline
Features
Gulf Log
Calendar
Council Currents
Resources
Gulf of Maine Watershed
Back Issues
Fall 1999
Summer 1999
Spring 1999
Winter 1998
Fall 1998
Summer 1998
Spring 1998
Winter 1997
Fall 1997
Summer 1997
Spring 1997
| | |
| --- | --- |
| | |
Deep sea corals may provide colorful homes, food for fish
By Suzy Fried, Editor
Halifax, Nova Scotia - Advocates of measures to protect coral forests in the deep waters of the North Atlantic suspect it's an aquatic jungle down there, with the branching structures that fishermen call "trees" providing food and shelter for Gulf of Maine fish stocks and other marine organisms.
Derek Jones, a former hook and line and longline fisherman from Cape Sable Island, Nova Scotia, is convinced that the North Atlantic coral forests provide important fish habitat. He and others assert that heavy fishing gear that drags along the sea floor destroys the corals, therefore harming deep sea fisheries. Jones, who now builds coral displays for museums, founded the Canadian Ocean Habitat Protection Society (COHPS) with fellow fisherman Sanford Atwood. The group advocates stopping fishing practices that damage ocean habitats. Protection for corals is needed, said Jones, "because they are not only important to fish and fishermen, but to everything that lives in the ocean - and it's suffering so badly now."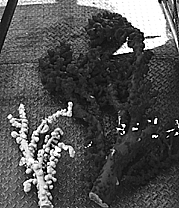 Dragging and trawling gear is damaging the corals, according to the Ecology Action Centre (EAC), an environmental education organization in Halifax. EAC will host an international symposium on deep sea corals at Dalhousie University in Halifax next summer. Mark Butler of EAC's Marine Issues Committee noted that gillnets and long lines can snag the trees, but longline gear "has the least impact."
Canada's Department of Fisheries and Oceans (DFO) is studying the impact of mobile fishing gear on ocean bottom habitat on offshore fishing banks, but not on coral forests, said Don Gordon, a research scientist at DFO's Bedford Institute of Oceanography.
Building a life
Deep sea corals are living structures that grow singly or in groves, mostly on rocky outcroppings and boulders on the edges of the continental shelf. Many of the existing corals are found in canyons in waters at least 100 fathoms (600 feet/183 meters) deep. Each coral tree consists of colonies of thousands of tiny anemone-like animals, known as polyps, that develop an external skeleton, layer by layer, similarly to the growth of trees on land.
While growth rates vary, some corals build their structures as slowly as a fraction of a millimeter per year. A branch as thick as your wrist could be about 300 years old, according to Mike Risk, Professor of Geology at McMaster University in Hamilton, Ontario. Risk, who studies corals as archives of climate change, has some specimens that he believes may be more than 1,000 years old. Corals, he said, "may be the oldest things in the sea."
Very different from the brownish Caribbean sea fans found in touristy boardwalk shops, the North Atlantic deep sea corals' vivid colors and fantastic forms have inspired fanciful names such as "bubblegum" coral, with knobby branches that are fruit-punch red; and "sea corn," which, when dried, resemble kernel-coated twigs. Other corals are gracefully shaped, resembling delicate branches, plumes, or feathers.
Tropical corals gain food and oxygen from algae present in the shallower, light-penetrable waters of the tropics. The algae, meanwhile, thrive in the safe, enclosed environment of the coral structure. Deep sea corals, however, do not have a symbiotic relationship with algae. Instead, the polyps use their tiny tentacles to feed on plankton and organic debris in the dark, cold, nutrient-rich waters where they grow.
North Atlantic deep sea corals "are an unassessed part of the Gulf of Maine ecosystem. There is a very good chance that they do have a very important role," according to Derek Davis, a research associate with the Nova Scotia Museum. Once the slow-growing corals are broken off or knocked down, any habitat values they may have provided for other organisms would take a long time to recover, he noted.
Jon Moore, a visiting scientist with the National Marine Fisheries Service in Woods Hole who specializes in deep sea fish research, has just begun studying photos of deep sea corals off Georges Bank. He said he has not yet drawn any conclusions about their value as fish habitat, but he noted that in the waters off Tasmania, "a researcher found that deep sea corals are essential habitat for at least some deep sea fishes."
Talk of trees
After hearing about the coral trees from Jones and Atwood, EAC undertook the first documented study of deep sea corals in Nova Scotia and Canada in 1997. The report mapped the distribution of four species of deep sea corals on the Scotian Shelf and Georges Bank and from Georges Bank to the Laurentian Channel. "We relied a lot on traditional ecological knowledge of fishermen," said report author Heather Breeze, who also examined museum collections and combed scientific literature. EAC hopes to expand on Breeze's original survey to document corals in all of Atlantic Canada.
The group has co-sponsored two workshops on deep sea corals with World Wildlife Fund-Canada. Next summer's symposium, which EAC is co-sponsoring with several other organizations, will, for the first time, convene scientists from around the world to discuss deep sea corals.
EAC hopes the symposium "will identify gaps in research and stimulate new projects in those areas," as well as spark some ideas on how to conserve the corals, said coordinator Susan Gass of EAC.
Multilayered value
Gulf of Maine coral experts say less research on deep sea corals has taken place in this region than in Europe and Russia, even though fishermen working in Nova Scotia have been hauling up coral fragments in their fishing gear for generations. Scientists now believe corals provide food and hiding places for fish, but years ago, some people thought the pieces of the North Atlantic corals were actually petrified trees, and may not have considered them important to marine life, surmised Martin Willison, Professor of Biology and Environmental Studies at Dalhousie University, and an organizer of the symposium.
More recently, scientists in Canada and in the US have studied North Atlantic deep sea coral specimens as records of global climate change and ocean history. According to Risk, one of several scientists specializing in this type of research, the corals' growth layers record changes in water composition, temperature, current activity, and sediments, all of which can provide valuable information on climate changes, pollution, deforestation, and other past ecological events that help researchers understand and predict future changes.
Another benefit corals provide, say other researchers, is that some species create substances that can be used in pharmaceutical products.
Hoping to delve deeper
Canadian and US scientists studying the role of the North Atlantic deep sea corals in the marine ecosystem say they need more than specimens and photographs. Several university researchers are seeking grants for undersea expeditions to the coral forests. Use of a miniature submarine, or submersible, can cost up to $14,000 (US) per day.
The expensive expeditions are likely to pay off by turning up information that would be useful to researchers throughout the entire Gulf region, said one researcher, but he warned, "There is a very real risk that by the time we have money to mount a decent program of research, there will be very little coral left, because of fishing practices."
The best way to protect the corals from human damage, according to advocates, is to prohibit fishing and oil and gas exploration by designating the areas where they grow as Marine Protected Areas under Canada's Oceans Act. Said Davis, "We're not talking about rare and endangered species, but I think what we want is [to preserve] representative communities" so that researchers can study them to learn more about their function within the marine ecosystem.
Such restrictions are certain to meet resistance, Davis conceded. "Our long-range plan from our point of view is to stop damage to ocean [bottom] habitat. Hopefully there will be a point where we can do some rational decision making that everybody can live with. Putting in regulations that nobody likes is expensive, and, in the long run, they're not effective."