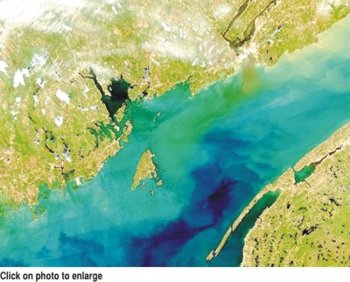 Ocean technology primed to reveal Gulf of Maine's dimensions
By Lori Valigra
From higher resolution satellite images to gliders, advanced technologies are revealing more about the Gulf of Maine and western Atlantic Ocean from the sea floor to the surface. The technologies have the potential to reveal what type of sediment and animals make up the sea floor, the chemical and biological composition of the water column, plankton distribution and much more. A fuller understanding of habitats and conditions could help identify abnormal changes and serve as predictors that could warn weeks ahead of time that conditions are ripe for a possible red-tide or other phenomenon.
---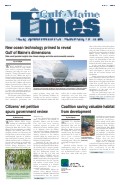 To receive a free subscription to the
Gulf of Maine Times
click here
Or to receive the Times via e-mail contact us at:
timeseditor@
gulfofmaine.org
Phone:
(617) 492-5357
Fax:
(902) 532-0250
| | |
| --- | --- |
| | Site Search |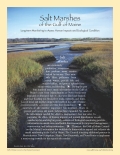 Download the recently published
Salt Marshes of the
Gulf of Maine
For additional info about the
Gulf of Maine
including maps, photos, current research, the NGO database, and to download other educational publications
please visit

Citizens' petition spurs government review
By Maureen Kelly
Frustrated by the slow pace of progress toward gaining protection for the American eel, the brothers Doug and Tim Watts filed a citizens' petition requesting that the fish be listed under the U.S. Endangered Species Act. In July, the U.S. Fish and Wildlife Service and the National Marine Fisheries Service responded to their appeal with an announcement that the agencies will conduct a status review of the species to determine if it warrants federal protection. The review is expected to take one year. "There's time to fix this," Doug Watts, who is also the president of the Friends of Kennebec Salmon, said. "We still have a chance."

Coalition saving valuable habitat from development


By Lisa Capone

Nestled within Maine's six southernmost towns, just over an hour's drive from Boston, is a 48,000-acre [1,920-hectare] haven a stone's throw from outlet malls and game arcades that conservationists say holds the state's greatest terrestrial biodiversity. Despite an onslaught of suburban sprawl that pushes the area's growth rate four times higher than the state average, it still harbors the largest tract of unbroken coastal forest between Acadia and the Pine Barrens of New Jersey.
---
Features and Columns
Editor's Notes: New Brunswick's smart funding
By Andi Rierden
Gulf Voices: Rivers of Memory
By Lee Bumsted
Q & A: Kenneth Frank, Bedford Institute of Oceanography
By Lori Valigra
Book Review: Entanglements: The Intertwined Fates of Whales and Fishermen
By Lori Valigra
Gulf Log:

New visitor center at Plum Island; Herring: Caught in a perfect storm; Tasty seaweed; Toxic metal becomes ocean nutrient
© 2005 The Gulf of Maine Times
This site is designed for optimum viewing with Internet Explorer, at a screen resolution of 1024x768.
---

Culverts as culprits

"The network of streams, rivers and riparian corridors are not unlike our transportation routes. The "motorists" are comprised of a rich diversity of invertebrates, fish, amphibians, reptiles, mammals and birds, many of which need to get from place to place by moving through the water or along the banks. Some fish species travel hundreds of miles to reach spawning areas and they rely on an unimpeded path."

Read more of Ethan Nedeau's article in
Science Insights.