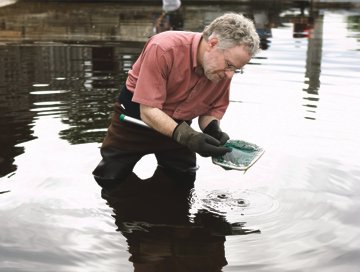 James Carlton has made investigating invasive species his life's work.
PHOTOS © MYSTIC SEAPORT
When it comes to invasives, who to turn to?
A profile of James Carlton
By Lori Valigra
WHEN James Carlton was 14 years old, he discovered a clump of worm tubes on the beach of Lake Merritt near his home in San Francisco Bay. He was so fascinated by the worms, which he later learned were native to the South Seas, that he spent years surveying the entire lake for plant and animal life. More than four decades later, Carlton is a renowned marine ecologist and evolutionary biogeographer (the study of how species get to where they are located) who directs his keen eyes toward invasive species in local waters. He also watches for something that is perhaps more difficult to detect: the extinction of species.
---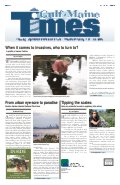 To receive or change your free subscription to the Gulf of Maine Times click here


Site Search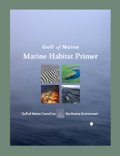 Download the beautifully illustrated
Gulf of Maine
Habitat Primer









For additional info about the
Gulf of Maine
including maps, photos, current research, the NGO database, and to download other educational publications
please visit
By Maureen Kelly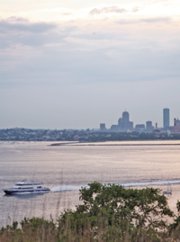 CREDIT: ISLAND ALLIANCE
SPECTACLE ISLAND opened to the public this past summer, 10 years after Congress added it and 33 other harbor islands to the national park system. Spectacle joins 10 other harbor islands that are accessible to the public and draw several hundred thousand visitors a year who are looking for a respite from city life or who come to explore the rich history of the islands.

How one urbanite turned an epiphany into action

By Lisa Capone

Roseann Bongiovanni in Chelsea, Mass.
PHOTO: LAURA WULF

HAD SHE SPENT her youth in a leafier place, Roseann Bongiovanni might have grown up a fervent tree hugger. But, hailing from urban Chelsea, Massachusetts-hardened by highways, housing projects, and oil tanks-Bongiovanni became a different sort of activist. Yet, as director of a non-profit devoted to a healthier environment for Chelsea's more than 35,000 citizens, Bongiovanni's accomplishments are clearly victories for the planet. And while she might balk at giving herself the title of "environmentalist," an influential federal agency recently went further-naming Bongiovanni an "Environmental Hero" for her leadership in restoring a half-acre salt marsh tucked between an interstate highway and a Home Depot parking lot.
---
Features and Columns
Editor's Notes: Turtles and humans can co-exist
By Andi Rierden
Gulf Voices: A passion for wetlands
By Cathy Coletti
Q & A with Sean Todd, College of the Atlantic
By Lori Valigra
Freshwater mussels and dam removal
By Ethan Nedeau
Book Review: Wetland Birds of North America
Reviewed by Lee Bumsted
Gulf Log:
Habitat restoration grants; Brook trout in trouble; Slowing down to protect right whales; Cooters released into the wild


© 2006 The Gulf of Maine Times
This site is designed for optimum viewing with Internet Explorer, at a screen resolution of 1024x768.
---

Science Insights
"Test Tubes" for Ecosystem-Based Management

AT THE SAME TIME overhauls of ocean management policies are being pursued on the national level in the United States and Canada, the complementary idea of improving ocean and coastal management at much smaller geographic scales-bays, for example-is also gaining traction. A common thread is a push toward ecosystem-based management. Regardless of geographic scale, the goals and challenges are similar.