Live catch
Gulf of Maine taking a fresh look at the fresh fish market
Gulf of Maine For certain restaurants, retailers, and consumers, "fresh" means fish that are swimming in a tank, not lying recently expired on a bed of ice. A growing demand for live catch could provide income supplements, if not alternatives, for Gulf of Maine fishermen, say some in the fishing industry. But opinions differ over how viable the live catch market for North Atlantic species really is.
Nevertheless, government officials and fishing industry representatives are taking a closer look at the live catch market, including Nova Scotia's Department of Fisheries and Aquaculture, which recently sponsored a three-day workshop on the topic.
Most finfishermen in the Gulf of Maine sell their catch dead, but some North American west coast fisheries have been involved in live catch markets for some time marketing live finfish to Asian countries and to North American cities with large Asian populations, such as Toronto, Vancouver, Chicago, New York, Boston, Pittsburgh, and Washington, DC.
Who buys the live ones?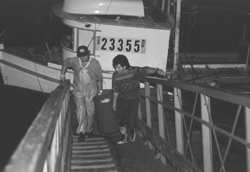 Some maintain that it is premature to consider the live catch market more than a niche market in the US and Canada. "I think it has potential, I'm just not convinced that a broad-based interest exists today. Certainly a specialty interest may," said Roger Berkowitz, President and CEO of Boston-based Legal Seafoods, noting, "If something is served to them with a head on it, main stream America gets repulsed." But Berkowitz said the company hasn't ruled out the live finfish market, noting, "We may play with it at some point."
Chris Duffy, a partner in GreatBay Aquafarms, a Portsmouth, New Hampshire company that hatches summer flounder for sale to growout facilities, said he hasn't seen a big change in the demand for live fish, although he is noticing increasing demand for higher quality and better handled dead fish. Under the current circumstances, he said, "My impression is that it would be something that people would do as complement to business in dead fish."
But John B. Peters, seafood consultant and owner of Seattle-based Nor'westerly Food Technology Services believes the live catch market is broadening. "As the world changes so do [people's] food habits," he said, asserting that, as consumers become wealthier and more sophisticated, their interest in new kinds of cuisine also grows.
Noting that the same fish now sold as dead catch can't simply be sold alive as demand for live catch grows, Peters said, "The consumer doesn't think about having a 20-pound fish you want a one-pound fish or a half-pound fish. So we're looking at smaller products that would fit nicely on a dinner plate or a serving plate. That opens up the door on new species of finfish."
Lobsters, crabs, and other shellfish traditionally sold live in the US and Canada are hardier and easier to transport than live finfish because they don't need as much room to swim. But Peters said some of the technology developed to improve containment and shipping of live shellfish has led to methods for making containment and transport of live finfish more feasible as well.
Research efforts explore feasibility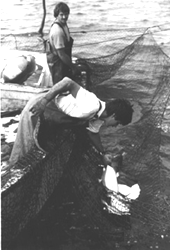 The New Hampshire Fishermen's Cooperative hoped to explore the viability of the live fish market, but has not been able to get research funding, according to cooperative Manager Roger Haymon. Even so, the coop might start experimenting by shipping some live catch to market, he said.
Washington County Technical College plans to work with the Maine/New Hampshire Sea Grant Program and the Maine Gillnetters Association to explore whether bringing in live catch is feasible in a location like mid-coast or Downeast Maine, according to Tom Duym, Division Head of the technical college's Marine Technology Center.
Most of the research would explore selling live catch to ethnic markets, although Duym said it's also worth considering selling fish popular in the US such as flounder, pollack, or cod in supermarket tanks, much as lobsters are sold now.
Peters said that in his experience with presenting the idea of live catch to the fishing industry, "fishermen's response has been very strong. This appears to them to be a very good way to preserve their way of business their way of life." He also described it as "an ideal means of marketing for aquaculture people."
Duym, on the other hand, has found fishermen to be interested but cautious. "They want to see something that will work without interrupting the limited amount of days at sea for groundfish they're doing now." Harvesting live catch means outfitting boats with aerated containment tanks, and using valuable space for fewer fish. "A fisherman who can bring in 2,000 pounds [907 kilograms] of dead fish may not be able to bring in 2,000 pounds of live fish, due to water weight. Maybe he can bring in 200 pounds [91 kilograms] in addition to his normal catch," but the market price for the live fish appears to be only about a dollar more per pound of whole fish, Duym said.
"If you're on a one- or two-day trip out of Boston Harbor and can bring in live fish as a bycatch almost and sell them in the greater Boston area, that's one thing. But you can't write much of a business plan on live fish only," given the expense involved, he said.
More study needed
Gloucester Fishermen's Wives President Angela Sanfilippo is skeptical about whether pursuing the live catch market is worth the trouble. "In a tank, the fish is no longer in its natural environment. My common sense and expertise say once they get to these tanks the product will be altered," and may not be as valuable on the market. Duym agrees that fish can't be contained indefinitely, as they become subject to stress-related infections.
Peters said the industry is researching techniques for reducing the expense of keeping fish alive. "The major impediment has been weight. With seafood that means gallons and gallons of water," making trucking costs
expensive, and air shipment outrageous, he said. One idea involves anaesthetizing tuna, slowing their metabolic rates for air shipment, then reviving them at the destination, he said.
There are other complications that come along with the potential benefits of the live catch market. According to Peters, some species harvested for live catch, such as eels, are gathered as juveniles and sent to other places for growout, potentially depleting stocks in their place of origin.
And then there is the animal welfare issue. Some activist groups in the San Francisco area, home to a thriving live catch market, oppose the confinement and sale of live fish for consumption, expressing concern about their containment and the manner in which they're killed.
Paul Olin, marine advisor with the University of California Cooperative Extension Sea Grant, said local statutes in San Francisco already prohibit cruelty to animals, and he maintains that it is in merchants' best interest to keep their animals healthy and unstressed, because healthier animals are more valuable. He noted that in the San Francisco live catch market, prices are two to four times greater than those for dead catch. "If we're going to harvest our natural resources, we should generate as much revenue as we can," he said.