Vol. 2, No. 1

PDF Version
Contents
Headline
Features
Gulf Log
Council Currents
Resources
Gulf of Maine Watershed

Back Issues
Winter 1997
Fall 1997
Summer 1997
Spring 1997
| | |
| --- | --- |
| | |

Gulf of Maine Council on the Marine
Environment
Gulf of Maine Times
Spring 1998 - Volume 2, Number 1
Ecotourism: treading lightly in the Gulf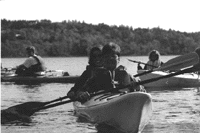 Gulf of Maine - Not everyone dreams of spending their precious vacation days combing an ankle-deep mud flat for sand worms and paying for the privilege. But organizers of trips that send people to work alongside environmental researchers and scientists say volunteer travel and other forms of "ecotourism" are increasingly popular worldwide, including in the Gulf of Maine.
Ecotourism, also called ecotravel, describes outdoor-oriented travel incorporating environmental education, conservation, or natural history components, and that benefits or at least does no harm to the destination's natural, cultural, or economic environment.
Depending on who you ask, ecotravel can cover everything from a wilderness camping experience to a bus trip to a bird sanctuary. "Ecotrips" can constitute a week and a half spent on a remote Maine lake monitoring loons with field scientists, an afternoon nature walk, or an extended canoe trip with chef-staffed campsites set up for weary travelers by the outfitter's advance teams.
More...