Vol. 2, No. 2

PDF Version
Contents
Headline
Features
Gulf Log
Council Currents
Resources
Gulf of Maine Watershed
Back Issues
Spring 1998
Winter 1997
Fall 1997
Summer 1997
Spring 1997
| | |
| --- | --- |
| | |
Nina Shepherd charts her own course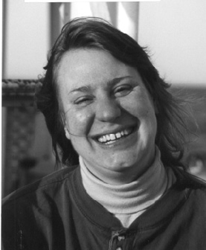 Falmouth, Massachusetts As punishment for breaking her curfew as a teenager, Nina Shepherd's dad, Fred Nichy, would bring her to work with him at the Northeast Fisheries Science Center (NEFSC) lab in Woods Hole early on weekend mornings. "I hated it at the time, because I wanted to sleep late. But he showed me all the techniques more than what he did in the kitchen."
Founder of the NEFSC's age and growth unit, Nichy often worked on his specimens at home. It would seem that Shepherd, now a marine biological science technician and 12-year veteran of the unit, didn't stand a chance of keeping her distance from the "family business." Not that she wanted to. "I wanted to grow up and be like my dad and do what my dad did."
Shepherd frequently sails on NEFSC survey cruises, collecting samples to be analyzed by biological technicians including herself, for information about certain species' growth patterns, food habits, and reproductive activity. Spending weeks cutting open fish after fish can be wearing, but, "it's all for good science," she said. As she took time to point out interesting characteristics of the fish being sampled aboard Albatross IV during the final leg of the Gulf of Maine groundfish survey, it was obvious that the creatures still fascinate her.
And, while the survey cruises are a job requirement, ultimately, the 40-year-old Cape Cod native goes to sea because she can't stay away. "This is something I really love," she said. Even when she returns home to Falmouth, Shepherd is likely to spend time on or near the water, combing a marsh in search of fishing bait, or digging for clams and quahogs on the beach.
Her affinity for the ocean started at an early age. When other nine-year-olds got paper routes, she started shellfishing, and had her own boat at age 12. She used her income to support her other hobbies, mostly animal-related, including raising beagles and caring for the pony her father brought home one day in the back of a VW microbus.
But as drawn as she is to the water, Shepherd also relishes coming home to spend time with her daughters, 18-year-old Malika and 13-year-old Novina, and to see friends, work in her garden, and teach her dogs to hunt. She hopes to add a horse to her family again, "maybe once my kids are both through college."
Though Shepherd grew up in Falmouth, practically next door to the NEFSC lab at Woods Hole, she took a long, circuitous route to her current job through the southern and western US as a rider on the amateur rodeo circuit, and then across the country, living off of temporary jobs on ranches, in slaughterhouses, and in onion processing plants. The jobs were "a lot of fun except for the slaughterhouses," she recalled.
Eventually, Shepherd landed in Monterey, California, and worked for several months on a charter fishing boat, doing double duty as a crew member the first woman crew member hired in San Francisco Bay and, more traditionally for the 1970s, as a waitress.
Her crew-mates treated her as an equal, thanks largely to her work ethic and sense of humor, but the paying customers weren't as progressive. "They were quite taken aback to see I could wield a fillet knife," in addition to fetching beer, she laughed.
After a couple more trips back and forth between coasts that included a brief marriage, helping to establish a mountain community in Big Sur, and working as a landscaper, Shepherd eventually returned to settle on the Cape with her two young daughters.
One day, when she was working at the local Woolworth's, the supervisor of the NEFSC age and growth unit came to encourage her to apply for a biological aide position there. "I just really lucked out having the background that my father gave me and being in the right place at the right time."
But for all her talk of luck, Shepherd sets her own course. Having postponed college earlier in her life, she's now completing her bachelor's degree in marine biology. And although her amateur rodeo days left her with a legacy of aches and pains, her sense of adventure is healthy as ever. "My next goal is to do some skydiving, even though I'm petrified of heights. That's what I've got left to do finish my degree and jump out of a plane to celebrate."