How one culvert can create a sea change

Nova Scotia's first salt marsh restoration project gets cross-border support
By Andi Rierden, Editor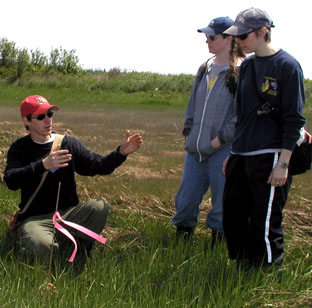 Tony Bowron with student interns at Cheverie Creek marsh in Nova Scotia. Bowron is leading a baseline study of the marsh in hopes of restoring tidal flow. If successful, the project will become the first community-based salt marsh restoration in the province.
Photo: Andi Rierden
Tony Bowron is standing on the seaward side of Route 215 over Cheverie Creek peering into a hollow opening called a scouring pool. Beyond us, vast mudflats, the color of sandstone, fan out to the cliffs of Cape Blomidon in an area of Minas Basin known as the Southern Bight. In a few hours, the tide will charge up a river channel, get detained in the pool, then drain slowly landward through a small wooden culvert set deep in the road bed. As the pool rises, Bowron explains, the tidal pressure creates a whirlpool so strong you can hear it swoosh. Throw a stick into the gyrating mass and it spirals to the center then vanishes down a black hole.
Long before road crews filled the opening to this tidal river with rock and inserted a culvert there stood a bridge, which allowed waters to flow unimpeded. Back then, the 30- mile long waterway served as an important habitat for the Atlantic salmon, shad, gaspereau and other sea run fish and wildlife. No longer. Like many streams and rivers along this salty corridor in the Upper Bay of Fundy, Cheverie Creek was "cut out of the marine ecosystem," Bowron says.

Around half of the rivers in the Bay contain tidal barriers, he adds, while some 80 percent of its salt marshes have been lost or degraded, mostly from the diking of agricultural lands by Acadian farmers more than three centuries ago.

...more...

---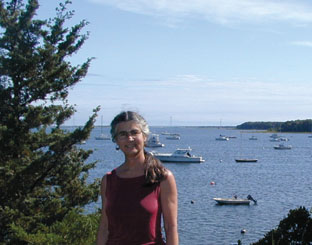 Walk, carpool, turn off those lights! Christine Gault, manager, Waquoit Bay Reserve (MA), on ways to reduce airbourne nitrogen (go to story).
Photo: Kelly Chapman
---
Pleasant Bay's best friends

When some long-time Cape Codders 'saw it coming' they rallied to preserve a precious estuary
By Maureen Kelly
Nearly 20 years ago, Alan McClennen Sr., a retired town planner, was sailing his Dyna Craft 29' between Cape Cod and Maine when his cruise was interrupted by a call from home. Get back here soon and go to work, some fellow Cape Codders urged him. They had lined-up a job for him that would put his work experience to good use.

These mostly older citizens had grown up around Pleasant Bay then moved away for jobs. After retiring they returned and found their home undergoing rapid change from development and population growth. Before the place they cared about became irreversibly altered, they enlisted McClennen's help and formed Friends of Pleasant Bay (FOPB), a grassroots organization committed to preserving the one of the largest estuaries on Cape Cod.

If Cape Cod is roughly shaped like an arm curling into a fist, Pleasant Bay is located at the elbow. A long barrier beach, part of the Cape Cod National Seashore, protects the scenic bay from the full brunt of the Atlantic's waves giving the bay and its inner islands a placid character.

The bay's natural resources support fishing and shell fishing and are widely used for recreation and nature viewing.

...more...