Tribes weave stewardship from tradition, technology
By Suzy Fried
Editor
Gulf of Maine - Present-day science and activism intermingle with cultural traditions dating back as far as the Ice Age in aboriginal communities addressing environmental concerns in the Gulf of Maine.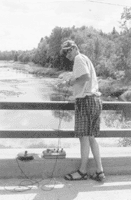 Spokespeople for several tribes in the Gulf watershed described conservation of rivers and coastal waters as having always been important elements of their culture. Traditionally, tribe members harvest only as much of any resource, whether sweetgrass or salmon, as they need, leaving enough for others, and for the earth to regenerate.
But tribal sources say that while this philosophy continues, ancient traditions of conservation are taking on new forms as well. Many tribal governments now have natural resource departments that monitor water quality and undertake restoration projects. Sometimes they collaborate with state, provincial, or federal governments, or grassroots organizations in neighboring non-native communities. And at least one native activist group is vocal in the Gulf region.
Tribal members and tribal government staff attribute these developments to a collection of changes that have affected indigenous people over the past two decades. For example, environmental concerns have become more pressing and numerous. "The tribes came out of the woodwork about the environment because they didn't like what was going on," said Jim Sappier, Region 1 Indian Coordinator for the US Environmental Protection Agency (EPA).
"When the salmon stop running and the fish stop running and your tribal members are dying of cancer, it's time to say, `Stop,'" said Sappier. A member and former Tribal Governor of the Penobscot Nation, he commutes weekly to his Boston office from the tribe's Indian Island reservation in the Penobscot River, just above Old Town, Maine.
Governments relating
Another reason for the emergence of formalized approaches to environmental issues is the centralization of previously scattered tribe members following land claims settlements in the US and Canada since the early 1980s, and the recognition of Native American tribes and First Nations as distinct governments.
The US and Canadian federal governments are each charged with a fiduciary trust responsibility to ensure that resources used by native people on native lands are available and healthy. Every federal department in both countries has a policy outlining its particular responsibility in upholding that trust.
According to Sappier, when tribes address environmental concerns, "You have a hard time telling where the people stop and the government begins. On the reservation, tribal governments are more apt to listen to someone who just comes in to talk to them. One elder can change the whole system in a tribe in regard to an issue."
"Our tribal government council is very sensitive to environmental issues," agreed John Banks, Penobscot Nation Natural Resources Director. "Our decisions are based on what's really happening in nature. We believe in a set of natural laws that govern what we do. Our connection to the land and the resources in the Penobscot River Valley goes back to the Ice Age," he said. Banks chairs EPA's National Tribal Operations Committee, which includes 20 tribal representatives who advise EPA Administrator Carol Browner on Indian policy.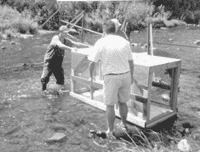 "Collaboration among tribes in the US and Canada has been ongoing for some time," but the two countries' federal governments have not worked together much on aboriginal issues, said Sappier. However, two US/Canadian organizations, the Gulf of Maine Council and the Global Program of Action Coalition, have stated their interest in inviting participation by indigenous tribes.
Acting on interest
Growing consciousness among native people of their rights under tribal agreements with the US and Canadian federal governments is another development prompting more action on environmental issues, according to tribal sources.
"I believe the interest has always been there. From our side of it, the woods and the water systems are a way of life for us. It's just that now, there's more awareness" of the rights of indigenous people, said Chief Patrick Francis of the Woodstock First Nation in New Brunswick, one of several bands of Maliseets that live along the Saint John river system. He said native people are also relearning traditional practices, now that the days of forced assimilation are over.
Availability of more federal government funding for the staffing and undertaking of environmental projects by tribal governments is also making monitoring and restoration projects possible. And more interest from non-native organizations in collaborating on projects has also helped, said David Joseph, Water Resource Manager for the Houlton Band of Maliseets in Maine, and a band member.
Water quality top priority
A few examples show that water quality monitoring is important to tribes working on watershed issues in the Gulf of Maine. "The tribes depend very heavily on being able to fish in coastal waters and being able to take fish for their own use whether for consumption or for ceremonial uses," said Heidi Leighton, Environ-mental Planner for the Pleasant Point Passamaquoddy Indian Reservation north of Eastport, Maine.
When shellfish beds in Passamaquoddy Bay were closed due to contamination, the tribal government began collaborating with the state Department of Marine Resources, the Cobscook Bay Clam Restoration Project in Eastport, and Canadian partners on several water quality monitoring and pollution detection projects. With funding from an EPA Environmental Justice Grant, the tribe is also testing tissue samples from fish and shellfish in the Cobscook and Passamaquoddy bays for heavy metals and dioxin.
In the Penobscot Nation, among the tribe's other environmental priorities, its government has a cooperative agreement with state of Maine to conduct the water quality monitoring for the watershed, which drains 10,000 square miles/25,900 square kilometers of Maine. Some of the analysis is done at the tribe's own water quality lab on Indian Island, said Banks, who described the tribal government's approach to environmental issues as combining "a cultural, historical, and traditional outlook on natural resources management with a modern scientific approach."
"The results of our monitoring have shown that our fish are contaminated," said Banks, noting that both the state of Maine and the tribe have issued consumption advisories for fish caught in the river, which the Penobscots describe as their spiritual center, or heart. At one time it was also their means of sustenance. Now, according to the tribe, dams and mills on the river are affecting its flow and the quality of its water.
The tribe blames high tribal cancer rates and contamination of fish and other resources on dioxin it says is discharged by the Lincoln Pulp and Paper Mill into the river, upstream of Indian Island. The Penobscot Nation is pursuing ways to force the paper mill to stop releasing dioxin into the river, and is exploring legal remedies for problems it blames on the discharges.
A tribal grassroots organization, Indigenous Resistance Against Tribal Extinction (IRATE), plans to use a postcard and newsletter campaign to raise awareness about the issue that IRATE Coordinator and Penobscot Nation member Rene Attean calls "environmental genocide."
Efforts converge on Meduxnekeag
According to Sharri Venno, Environmental Planner for the Houlton Band of Maliseets, "Most of our water quality issues come from off reservation. We need to be part of a watershed-wide effort." Venno is not a tribal member, but co-chairs the Meduxnekeag Watershed Coalition, which is working on erosion control, restoration, and cleanup on the river.
"We're part of the land just as much as the water's part of the land," said Joseph, explaining that, for him and his family, a healthy river means "supper on the table." The band's tribal government has sponsored workshops on water quality issues, is working with farmers to address agricultural sources of water pollution, is monitoring water quality in the river in coordination with the state, and hopes to get federal funding to clear out and prevent the growth of thick mats of algae that clog the river at low water during the summer. The algae hinders canoes and fishing, and raises concerns for fish habitat.
Also active on the Meduxnekeag River, but in New Brunswick, is the Woodstock First Nation. According to Chief Francis, the Maliseet band is restoring salmon habitat on the river, as well as conducting fish surveys to monitor salmon populations with technical assistance from the Canadian Department of Fisheries and Oceans.
In the past,the Woodstock First Nation also worked with a local non-native community organization, Partners with the Meduxnekeag (PWM). According to Wayne Annis, who was involved with that group at the time, the band's "interest in fisheries seemed to lend itself to habitat restoration projects." The Woodstock First Nation adopted Marvin's Brook, a tributary of the Meduxnekeag, for habitat restoration, and also led efforts to raise salmon for the river, he said.
Now working with the Keswick River Society, Annis said that organization is collaborating with another Maliseet band, the Kingsclear First Nation, on habitat restoration and public education projects. Of the partnerships, Annis said, "It's certainly been a positive experience for both them and us. I think things like this can really help develop an understanding between native and non-native communities."
But according to Sappier, in some cases, an even more immediate priority of tribal environmental programs is to find out "what's killing Indians."