Study to examine history of marine animals
By Maureen Kelly
Historians are joining ecologists to study how humans have changed the marine ecology by fishing and whaling around the world. The History of Marine Animal Populations (HMAP) project, centered at three universities - University of Southern Denmark, University of Hull in the U.K. and the University of New Hampshire (UNH) - will involve researchers at some 30 institutions. In what is expected to be a ten-year study, HMAP researchers have begun conducting eight case studies in areas that have been heavily fished in the past and that have sufficient historical data to show changes in the ecosystem.
The focus of the study is to find out what happened in these ecosystems when fishing occurred, said Dr. Tim D. Smith, a fisheries scientist with NOAA's Northeast Fisheries Science Center in Boston who conceived the project with Dr. Poul Holm, a Danish historian.
"A stable system pre-fishing and a stable system after you've done some significant fishing are very different," Smith said citing HMAP's case study in Southeast Australia that is showing evidence that large-scale fishing, begun in the early 1900s, quickly altered the species composition of the fishery.
In the Northwest Atlantic study, which has components from the Gulf of Maine, Greenland and Newfoundland fisheries, researchers will be delving into older data. Spanish and Portuguese records of cod fishing on the Grand Banks are available from the late 1500s and early 1600s when there was strong demand for salted fish in Europe and a large fleet sailed the Atlantic.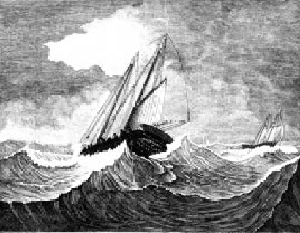 "Basque fishermen and whalers knew about the area before Columbus 'discovered' America," Smith said.
Schooner hand-line fishing for cod on George's Bank. Courtesy of NOAA Historic Photo Archives.
In the Gulf of Maine, UNH researchers are studying logbooks of cod catch from the mid-19th century when a bounty on cod gave fishermen an incentive to report their landings. They are discovering that those fishermen traveled long distances, said Dr. Andrew Rosenberg, dean of life sciences and agriculture at UNH, who is overseeing the Gulf of Maine case study. Rosenberg wants to find if 19th century fishing grounds correspond to 20th century fishing grounds. By creating an oral history of fishing on Jeffrey's Ledge, an important fishing ground today, he and his students hope to determine if 19th century fishermen worked the area as frequently.
UNH researchers are also working on a history of fishing on the Isles of Shoals, trying to determine what caused the collapse of the halibut fishery and studying shellfish and introduced species. A student is mapping archeological sites on the Gulf of Maine, as well. Rosenberg said the focus, "is both land and water sites of archeological interest, not just fishing related, but broader, because we are interested in the development around the Gulf of Maine."
Some data from the Gulf of Maine will contribute to HMAP's World Wide Whaling study.
"We know there was whaling in the Gulf of Maine by a fleet that moved into the area to fish menhaden in the 1880s," Smith said. When the menhaden stocks became less available the fleet turned to whales, he said. To discover more about the Yankee whaling fleet's operations in the Gulf, a historian is piecing together information by combing though newspaper archives and town records.
HMAP will provide a historical dimension to a larger project, the Census of Marine Life, a decade-long program to promote and fund research and explain the diversity, distribution and abundance of marine organisms through the world's oceans. Researchers hope a historic component will lead to more informed approaches to regulation and provide new information about the collapse of various fisheries resources.
To find out more about the program go to: www.coreocean.org/censhmap1.html.