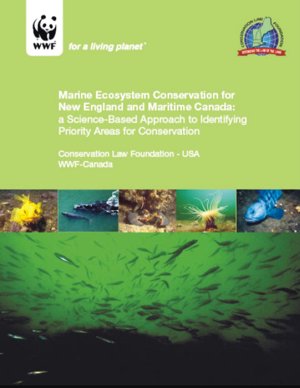 Atlantic marine reserves proposed
The Conservation Law Foundation and World Wildlife Fund-Canada have recommended creating a network of ocean conservation areas because they say the ocean environment is in a crisis. The authors of a recent report used government data to examine the life cycles, habitats, and populations of marine organisms, including the endangered North Atlantic right whale. The 193-page report, entitled Marine Ecosystem Conservation for New England and Maritime Canada: A Science-Based Approach to Identifying Priority Areas for Conservation, was prepared over six years with collaboration among 60 U.S. and Canadian scientists and released in late 2006. The ocean conservation areas would aim to restore and protect marine habitat and biodiversity. A sample network identified in the report consists of 30 individual areas, the smallest of which are about 100 square miles (260 square kilometers) and the largest almost 5,000 square miles (13,000 square kilometers). The network, totaling about 24,000 square miles (62,400 square kilometers) - about the size of Massachusetts, New Hampshire and Maine - includes spawning areas for fish, key feeding and calving grounds for endangered whales, and various types of marine habitat. The report analyzed off-shore waters of the Gulf of Maine including the Bay of Fundy, Georges Bank, and the Scotian Shelf, or an area that covers some 107,000 square miles. The report includes detailed scientific analysis, color photographs, and maps. Contact John D. Crawford or Priscilla Brooks at (617)350-0990 at the Conservation Law Foundation for more information.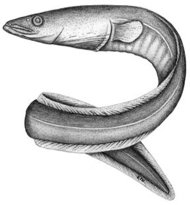 ILLUSTRATION: ETHAN NEDEAU
Restoring the American eel
A 12-page booklet from the Gulf of Maine Council on the Marine Environment describes the challenges and methods for restoring the American eel in the Gulf of Maine.
The American eel spans a vast range of political boundaries and habitats. Written for resource managers and other coastal decision makers in government, non-governmental organizations, and the private sector, the illustrated booklet includes maps, graphs, and an extensive bibliography.
Topics include the biology of eels, migration and life cycle, the current state of the fishery, effects of ecosystem quality, and challenges posed by non-native species and climate change. The American eel is the only catadromous species (it lives in fresh water and enters salt water to spawn) in the Gulf of Maine.
A limited number of printed copies are available or it can be downloaded in pdf. format. For more information see: