A much needed home for marine animals
Center will be the first to provide rehabilitation
By Maureen Kelly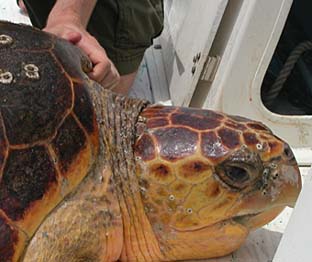 The Center's two 12-foot diameter, five-foot high pools with circulating salt water will hold up to two loggerhead turtles (such as the one above) or more of the smaller Kemp's ridleys.
Photo: Mary Kay Fox
Each autumn, from late October to early December, sea turtles wash up on Cape Cod beaches, after migrating from the southern climes north along the Gulf Stream to the feeding grounds of Stellwagen Bank. Those turtles that linger on Stellwagen too late into the season can find themselves in intolerably cold waters when the ocean temperature dips. Then they strand on the Cape's beaches in a torpid condition—known as "cold-stunned"—with slowed heart rate and breathing.

This year, the National Marine Life Center (NMLC) in Buzzards Bay, Massachusetts, (http://www.nmlc.org) will be ready to shepherd some of them back to good health. NMLC is in the first phase of constructing a marine animal rehabilitation hospital that will be the last stop off for turtles on their journey to recovery and release back into the wild.

For this project, NMLC is partnering with Massachusetts Audubon's Wellfleet Bay Wildlife Sanctuary, which coordinates beach rescues of turtles, and the New England Aquarium, which provides critical care to turtles. By November, the NMLC was ready to accept some of these animals for the third stage of care—pre-release rehabilitation. When space permits, it will also take in seals. Eventually, the hospital will be equipped to treat whales, dolphins and porpoises as well.

Cape Cod is a prime location for such a center.

---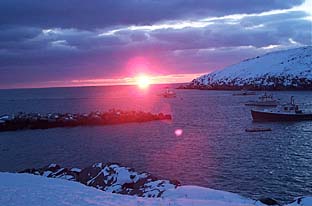 Monhegan Island's lobster management plan mirrors an ancient Hawaiian tradition, writes Sam Low. See story.
Photo: Carl Wilson, Maine Dept. of Marine Resources
Tour highlights the zeal of small-scale fisheries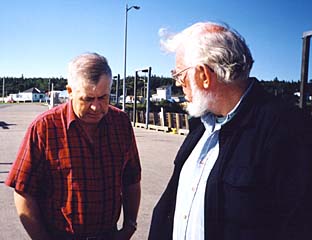 Greg Thompson (left) of the Fundy North Fishermen's Association chats with Rev. Ted Hoskins at the Dipper Harbour wharf in New Brunswick.
By Scott Milsom

Community-based management began as a grassroots effort in response to the growing trend in Canada and the United States to privatize fisheries resources. While privatization can have short-term benefits to certain harvesters in some communities, in the longer term it leans toward corporate ownership and steep decline for the coastal communities where small small-scale fisheries serve as the backbone of the local economy. For those involved with community-based management, the well-being of both the fishing communities and the ocean are paramount.

Nowadays, there are many different ways for local people that work in the field of community-based management to become stewards of local resources. They include creating harvesting plans, conducting fisheries science and devising marketing plans.

Of course people working in the field of community-based management can do a better job when they are able to meet with others doing similar work elsewhere.