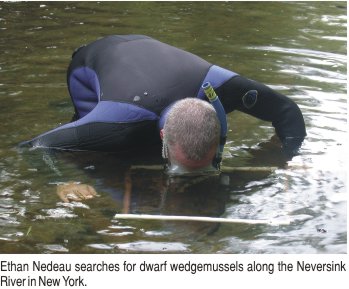 In hopes the dwarf wedgemussel survives
By Ethan Nedeau
Not long ago, I drove north along the eastern flank of the Green Mountains before dawn, listening to highway music and dreaming of discovery. Morning light filled the valley by five o'clock. From atop a glacial escarpment my eyes followed a ribbon of mist hovering over the Connecticut River...The reflection of the Dartmouth Range of the White Mountain National Forest was my last glimpse of the landscape for a while. I donned SCUBA gear, descended ten feet below the surface, and worked slowly upriver in search of the small and cryptic dwarf wedgemussel.
---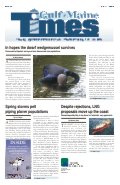 To receive a free subscription to the
Gulf of Maine Times
click here
Or to receive the Times via e-mail contact us at:
timeseditor@
gulfofmaine.org
Phone:
(617) 492-5357
Fax:
(902) 532-0250
| | |
| --- | --- |
| | Site Search |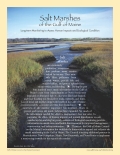 Download the beautifully illustrated
Salt Marshes of the
Gulf of Maine
For additional info about the
Gulf of Maine
including maps, photos, current research, the NGO database, and to download other educational publications
please visit

Despite rejections, LNG proposals move up the coast
By Maureen Kelly
The debate over the siting of liquefied natural gas (LNG) terminals has reached the northernmost shores of Maine with three proposals to build terminals for offloading LNG from ships in the deepwater ports of Passamaquoddy Bay. While the projects could provide a new source of energy for New England and bring jobs to Maine's Washington County, opponents argue that an LNG terminal, and the huge tankers that service it, will pose a threat to a vibrant coastal ecosystem and destroy the region's tourist trade by industrializing small coastal communities, tribal lands and resort towns.

Spring storms pelt piping plover populations


By Lori Valigra

A series of spring storms in New England this year disrupted the annual nesting season of piping plovers and helped cause a dramatic fall-off of their populations. Just as the chicks were hatching, hungry predators like foxes and crows ravaged the birds and human intruders disturbed their nesting areas near the high dunes in the sand. The plover populations in Massachusetts and Maine both suffered their worst year on record.
---
Features and Columns
Editor's Notes: Marine protected area a long time coming
By Andi Rierden
Gulf Voices: Municipalities key in protecting species, habitats
By Samara Eaton
Q & A with Dr. Karen Kidd: Drugs spilling into waterways bad news for fish
By Lori Valigra
Book Review: Cities in the Wilderness by Bruce Babbitt
Reviewed by Lee Bumsted
Gulf Log:

Casco Bay: Improvements and areas of concern; Allen's pond wildlife habitat preserved; Bluefin tuna quality declines; Haddock prefer bait to hot dogs
© 2005 The Gulf of Maine Times
This site is designed for optimum viewing with Internet Explorer, at a screen resolution of 1024x768.
---

Cumulative Impacts

Erosion of soil into coastal waters, dredging, jetties and sea walls all affect the amount and distribution of sediment carried in the water. Excessive sediment can interfere with the feeding of bottom-dwelling invertebrates, reduce the amount of light available to seaweeds and interfere with other ecosystem processes.

Read more of Peter Taylor's essay in
Science Insights.