| | |
| --- | --- |
| | |
Newspaper describes health of Quoddy region

The Quoddy Report, a 16-page newsprint tabloid, summarizes the key findings of a science report published last year by the Conservation Council of New Brunswick, entitled, "Two Hundred Years of Ecosystem and Food Web Changes in the Quoddy Region, Outer Bay of Fundy." Researched and authored by Dalhousie University post-doctoral fellow Heike Lotze and CCNB marine science advisor Inka Milewski, the report documents a downward trend in ecosystem health and a simplification of the food web structure in the marine waters of southwestern New Brunswick.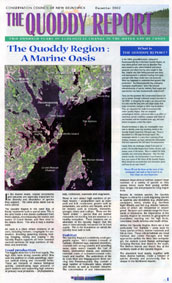 Click on the image to enlarge

The newspaper report describes the area as a marine oasis in the Northwest Atlantic for whales and birds and a prodigious producer of fish. It explains how humans, through overharvesting, habitat destruction and pollution that began nearly 200 years ago, have dramatically changed the food web of the region and undermined or threatened many populations of fish, marine mammals, birds and invertebrates. As food webs and ecosystems are undermined, the report emphasizes, so is nature's ability to support the human populations dependent on these resources.

A closing section on the ways to remediate and protect the ecosystem concludes: "Currently, problems are ignored until a crisis erupts, often when it's too late to do anything about it. Then we really only guess at what interventions are going to result in a solution. A commitment to long term, coordinated ecosystem research, with publicly accessible data can change this dead-end approach of 'shot in the dark' crisis management."

The Quoddy region in the outer Bay of Fundy runs southward from Point Lepreau, New Brunswick, to the islands and waters of Grand Manan, then west to the Maine shore. It contains the watersheds of the St. Croix River and Magaguadavic River, sheltered bays, uninhabited islands and extensive intertidal zones of rockweed-covered rocks, beach and mudflat. Intense biological activity there creates the foundation for a remarkable food web, concentrating large amounts of plant nutrients and high volumes of phytoplankton, kelp, seaweeds and seagrasses. This in turn attracts copepods, krill, crustaceans, periwinkles, sea urchins, and filter feeders such as sponges, clams and scallops. In addition, the Quoddy region supports migrating fish, sea and shore birds and whales that depend upon its abundant food supply and habitat.

Copies of The Quoddy Report can be picked up at the CCNB office, Conserver House, 180 St. John Street, Fredericton, or ordered by mail.

For more information or to order, contact Janice Harvey at ccnbharvey@nb.aibn.com, or by phone, (506) 466-4033; or call Sandra at (506) 458-8747. The fully-referenced 190-page science report, "Two Hundred Years of Ecosystem and Food Web Changes in the Quoddy Region, Outer Bay of Fundy" is also available on CD in PDF format for $10 (CND) plus shipping.