| | |
| --- | --- |
| | |
Saving the Maritimes' largest wilderness area
Don Rice and Jim Todd's dedication to Nova Scotia's Tobeatic has earned them the Gulf of Maine Council's Art Longard Award for 2002.

By Andi Rierden, Editor

From a satellite image taken more than 400 miles above Nova Scotia, the Tobeatic Wilderness Area appears as a beautiful mosaic of wetlands, barrens, meadows and dense woodland. Unlike the patchwork of roads and chock-white scars of forest clear cuts that skirt its borders, this vast, isolated tract, at over 104,000 hectares [370,740 acres] stands apart as a lush and unfragmented ecosystem.
"The Toby," as it is often called, is the largest protected area in Maritime Canada. The subject of a well-loved classic, The Tent Dwellers [Nimbus Press, Halifax], and scores of backcountry tales handed down through the generations, it remains Nova Scotia's last true wilderness. The province's small native moose population depends upon its undisturbed lands and waterways to survive, as do black bears, river otters, bobcats and the endangered Blanding's turtle and rare southern flying squirrel. The Tobeatic provides a stable habitat for water-pennywort, golden crest, redroot and Long's bulrush, all listed as species at risk. The headwaters for nine rivers that flow into the Gulf of Maine rise from the Tobeatic, including the Shelburne, a Canadian Heritage River.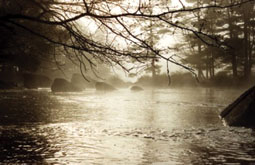 That this region in south central Nova Scotia was designated in 1998 as protected under the provincial Wilderness Areas Protection Act is due largely to the efforts of Don Rice, a potter from Bear River, and Jim Todd, a cartographer and graphic artist from Perotte. For more than a decade, the two stewards, along with other members of the Tobeatic Wilderness Committee, have led a persistent and mostly uphill campaign to secure the Tobeatic's preservation. They continue to appeal for protection of its adjacent lands, arguing that extensive logging, a proposed quartz mine near its northwest border, and ATV use within and around the area, threaten the Tobeatic's long-term sustainability.

Knowledge born from deep roots

As a boy, Rice's father worked as a logger for the local saw mills at the northern ridge of the Tobeatic. The scenery and mystery of the area formed a lasting impression. "Dad would drop us off to play along the shores of Lake Joli near the entrance of the Tobeatic, while he brought down booms of logs through lake system," Rice recalls. "The Tobeatic was always a presence for us, you heard about it all your life."

Later as a Boy Scout and avid canoeist, Rice ventured deeper into this roadless wilderness where there are no marked trails or manicured walkways. "You look for the old carries," he says referring to primitive canoe portages used by outdoor guides more than a century ago. "And you learn to follow the waterways."

With family roots in Bear River that go back to the Acadian period of the mid-1600s, Rice says protecting the province's wilderness areas and their boundaries are essential in preserving Nova Scotia's culture.

"There is a moral issue here. We need to preserve these areas simply because they are a record of our natural history. Just as we have seen the value of maintaining human-made structures for historic preservation, we need to start looking at preserving nature to preserve our heritage as a people. If we destroy our wilderness areas, that's it, there is no more left."

Not only that, Rice adds, the drive for profits, which has caused so much harm to the natural environment, needs to be harnessed to save it. In short, he says, wild lands surrounding protected areas like the Tobeatic are worth more intact than they would be if they were converted for logging or mining. Conserving watersheds for water purity, wetlands for flood control, and forests for climate stabilization, clean air and biodiversity conservation simply makes better economic sense [a recent study in Science magazine confirms that this approach is badly needed, see Page Ten]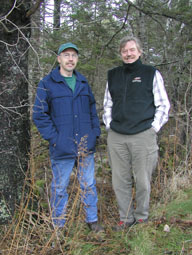 Don Rice (left) and Jim Todd say the Tobeatic needs more protection from industry.
Photo: Andi Rierden

Rice's concerns go back to the late 1980s when he heard from a source that the lands near the Tobeatic where he played as a boy were going to be extensively logged. He was advised to call Todd, a scout master and licensed guide who knew the Tobeatic well. Their first conversation evolved into the formation of the Tobeatic Wilderness Committee and began a friendship sealed by a passion for the wilderness.

A forest void of chainsaws and roads

Todd too, had grown up in a family of woodlot owners in an era before industrialized forestry, when trees were logged at a much smaller scale and clear cutting was rare. His knowledge of the backcountry, its beauty and its dangers, is often solicited for outdoor recreation booklets and canoeing guides.

A true outdoor traditionalist, Todd says with a chuckle, "I come from the old school of rubber boots and wool socks. None of this Gore-Tex stuff."

Todd tells the story of a trip he took into the Tobeatic 25 years ago, far from the main waterways and common routes. "I kept thinking, 'how wild can the Tobeatic really be?'" he says. "So I picked a spot as far away from roads as you could get. That happened to be North Bingay Lake, the geometric center of the wilderness."

Using only a ranger's map from 1938, Todd and some friends spent four days canoeing and hiking to their destination. North Bingay Lake rested amid an expanse of open barren country. "We found a place to camp cushioned with reindeer moss looking out over a large island covered with huge hemlocks that had never been logged," he recalls. "We felt that we were as far away from anything as we could get, and experiencing what the first settlers must have found hundreds of years ago. It was so wild, the sense of geography and weather made you feel quite insignificant."

This past fall, he led a party of campers to retrace the trip he made to North Bingay and found it unchanged. "There were still no signs of humans going up in there in the 20 odds years since my first trip," he says. "As we all know, there just aren't other areas in Nova Scotia like this anymore."
The wilderness contains the province's remnant moose population.
Photos courtesy of the Tobeatic Wilderness Committee

Rice and Todd currently sit on an advisory committee for the Department of Environment and Labour to help develop a management plan for the Tobeatic.

Despite the progress made in protecting the Tobeatic, at times, Rice says, his optimism wanes. "There is a lot less of the Tobeatic region than there was when I was a boy," he says. "And I believe we'll end up with less and less until we can get beyond this mentality of 'land use' and start thinking in terms of conservation and restoration and their lasting values."

To this end, the Tobeatic Wilderness Committee would like to see amendments made to the Wilderness Areas Protection Act that would protect adjacent lands bordering the Tobeatic. This as well as an educational component about the environmental and cultural importance of the Tobeatic for young people.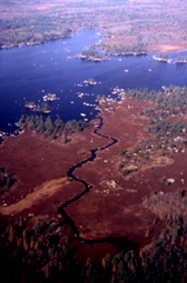 The Tobeatic is a legacy of the last ice age with barrens, abundant lakes, streams, wetlands and old forests.

In a sense, Rice says, working to preserve this vast area is like returning a huge favor. "Many, many years ago the wilderness took very good care of us," Rice says. "Now it is our turn to take care of the wilderness."


Editor's Note:
As one of the seven original founders of the Gulf of Maine Council, Art Longard committed countless hours to the conservation of marine life in the Gulf of Maine. He died of cancer in 1997. In his honor, the Council bestows the Art Longard Award each year on an outstanding citizen volunteer/s living within the Gulf's watershed.