Gulf Log
Codium ad nauseum

"Dead Man's Fingers" or "Oyster Thief" are the less than flattering names attributed to a spongy, finger-like, alga that can grow up to 36 inches [91 centimeters] and make life miserable for marine plants and fish; not to mention beach goers. Last summer town officials in Harwich, Massachusetts, reported great gobs of the nuisance, Codium fragile, washing up on their shores. "There's an incredible amount," says Jay Baker, the coordinator for the Massachusetts Office of Coastal Zone Management's (CZM) Invasive Species Program.

Native to Japan, Codium invaded the Gulf of Maine in the mid-1960s and has since spread north to the Gulf of Saint Lawrence and south to the Carolinas. In Massachusetts, Baker says, the alga is washing up in such large quantities along the southern coast of Cape Cod that residents and visitors are avoiding area beaches. As a temporary measure, officials in Harwich brought in a front-end loader to scoop the piles into Codium dunes. Baker described one dune as 150 yards long and about six to eight feet high. "Then it starts to rot, and people really start complaining," he adds. "It smells pretty bad."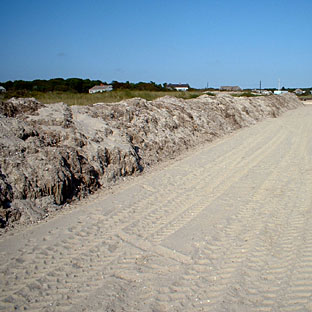 Codium fragile washing ashore in Cape Cod is driving beach visitors away. For now, the Town of Harwich is scooping the alga away from the beaches and piling it into dune-shaped mounds.
Photo: Jay Baker, Massachusetts Office of Coastal Zone Management


Researchers at Dalhousie University in Nova Scotia discovered a direct link between a Codium invasion and a naturally occurring process. It starts with sea urchins, which can feed intensely on kelp forests eventually mowing them down to barrens. The re-establishment of the kelp forest begins after a decrease in sea urchins, usually caused by the outbreak of disease. But if Codium moves into the newly created barrens, there is slim chance the kelp will ever be able to re-colonize.


"This could seriously affect the foraging of urchins, lobsters and host of other native species that rely on the kelp habitat," writes Jon Percy, who reported on the research in a recent edition of Fundy Issues (www.bofep.org). "The aggressive growth of Codium not only destroys economically important seaweeds…it can also wipe out shellfish beds."


Although it hasn't yet gained a major foothold in the Bay of Fundy, Codium has been sited in St. Mary's Bay in southwest Nova Scotia. SCUBA surveys conducted by Dr. Robert Scheibling and his colleagues at Dalhousie are closely monitoring its distribution along the province's southern shore.


In coastal Massachusetts, however, Codium is now firmly established. CZM is working with Harwich town officials, the Department of Environmental Protection and Department of Agricultural Resources to identify disposal options for the Codium, such as landfilling or composting. Laboratory tests on Codium indicate that it probably won't make good garden compost, Baker says, "though some fishermen say it's great for tomatoes."


CZM is working on a management plan to evaluate removal and disposal options for towns dealing with Codium and other invasive algae problems. It will include a survey of Codium along the southern coast of Cape Cod to determine if it may be crowding out or outcompeting eelgrass communities. Baker says it is uncertain whether the invader will continue to proliferate. A similar Codium explosion occurred in the mid-60s but then receded. "We don't know if it is going through a boom and bust cycle, similar to the mid-60s, or responding to high nutrient loading," he says.

Fishing Rules approved

Congressman Barney Frank (D-MA) called the Magnuson-Stevens Fishery Conservation and Management Act—which governs U.S. fisheries—an "outdated law" that needs to be rewritten when he appeared earlier this year before the New England Fishery Management Council's (NEFMC) groundfish committee in Mansfield, Massachusetts.


Frank's announcement came as the NEFMC was deliberating over the details of a new round of controversial federal regulations—known as Amendment 13—that will further reduce fishing boats' days-at-sea. The new rules, which go into effect on May 1, are designed to bring the groundfish management plan for the Northeast into compliance with the Act.


While many of New England's groundfish stocks have begun to increase in recent years, some stocks remain at low levels or are not increasing fast enough under the law.


Some lawmakers in the region fear that Amendment 13 will cripple New England fishing communities.
Congressmen Frank and Jeb Bradley (R-NH) are urging Wayne Gilchrest, chairman of the House Fisheries Subcommittee, to make reauthorization of the Act a priority this year.


"The New England fishing industry employs thousands of people in our districts, and these hard-working men and women deserve to know with certainty the future of their business," they wrote in a joint letter to Gilchrest.


This action followed a move by Senator Susan Collins (R-ME), who added a rider to a federal appropriations bill to delay implementation of Amendment 13 until the end of September and give the NEFMC time to address issues raised by the Maine fishing community.


"Maine's fishing industry is a 400-year tradition upon which our economy relies," Collins said. "In its current form, Amendment 13 would be unfair to many of Maine's fisheries, in some cases allotting them zero fishing days per year."


Maine fishermen contend that the Amendment unfairly burdens them by not taking into account the longer steaming time Maine boats need to reach the rich fishing grounds of Georges Bank and by limiting opportunities for smaller boat fishermen to take advantage of days-at-sea allotted for harvesting more abundant stocks (most fisheries where this activity can occur are on Georges Bank).
"The devastating impact Amendment 13 could have on Maine's 400-year old fishing industry makes it imperative that these issues are addressed and resolved," Collins said.


In late January, the Senate passed legislation overturning Collins' delay. (At press time, the repeal was still subject to House approval.) Fisheries management officials, who believe the delay would harm fishermen, told Collins that they will address the concerns raised by Maine fishermen.
–Maureen Kelly

New study on marine infrastructure

Coastal Communities Network (CCN), an advocacy organization for Nova Scotia's small rural and coastal communities, has release a report entitled Between the Land and the Sea: The Social and Economic Importance of Wharves and Harbours for Nova Scotia. The report, which is available in PowerPoint and CD formats [see: www.coastalcommunities.ns.ca], contains a GIS database that allows people to identify trends in communities over several years and from a variety of angles. It includes extensive information on population shifts over the past decade, employment and income levels, levels of various employment categories, the value of wharves and of fish landings, locations of tourism operations and aquaculture sites, export figures per resource sector, and more.


The basis for the study grew out of a meeting CCN organized for individuals and organizations concerned about harbor and marine infrastructure. Participants ranged from government officials, harbor authority representatives and tourism operators to community economic development activists.


"When people in small coastal communities meet with government representatives, they often leave feeling that they've been consulted but not listened to," says Ishbel Munro, CCN's executive director. "From the outset of this study, a sense of teamwork developed and committee members shared a common spirit of working together toward solutions rather than adopting an 'us-versus-them' approach."


Munro added that the study's detailed look at Nova Scotia's coastal communities and the economic, social and demographic changes they have undergone over the past decade will be a valuable tool for those working to improve these communities.


For more information, contact Munro at (902) 485-4754.

Salmon, dams and Maine

Atlantic Salmon in Maine, a report by the U.S. National Academies' National Research Council, says a program of systematic dam removal must begin immediately if migrating salmon are to survive. It said dams, some of which have outlived their economic usefulness, hinder the passage of adult and juvenile salmon.


The study also suggested that chemicals from the atmosphere that alter the water chemistry of streams were harming salmon. Potential remedies included the experimental addition of lime to rivers and streams as a way to counteract acidification.


The report questioned Maine's heavy reliance on hatcheries to increase the salmon population and said hatcheries should focus on preserving the genetic diversity of remaining wild salmon populations by providing them with a secure place to grow.


The committee also recommended that Maine avoid stocking streams with salmon or nonnative fish that may mate with or crowd out wild salmon, or out-compete them for food.


"Comprehensive, statewide action should be taken now to ensure their survival. And a formalized decision-making approach is needed to evaluate options, establish priorities, and coordinate plans for conserving and restoring the salmon," said Michael Clegg, professor of genetics at University of California, Riverside who wrote the report.
Although reliable data was not available for Maine, Clegg said, aquaculture also appears to have an adverse effect on the salmon. "Elsewhere aquaculture has been shown to affect native salmon populations through ecological competition from escaped farm fish and through the large increase in the population density of parasitic copepods (sea lice)."

The study is available at http://books.nap.edu/.