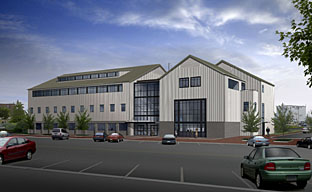 Architectural rendering of the Gulf of Maine Research Laboratory, now in its first phase of construction.
Photo courtesy of the Gulf of Maine Research Institute
This winter, Portland, Maine's Time & Temperature building routinely displayed temperature readings that kept otherwise hardy sorts indoors. Yet next to the harbor misted with sea smoke, ironworkers were erecting structural steel for a new three-story building. Apparently a little frigid weather wasn't going to delay the construction schedule for a marine and education research laboratory in the heart of the city's busy working waterfront.
The Gulf of Maine Research Institute (GMRI) plans to move into its new facility—the Gulf of Maine Research Laboratory—in January 2005. The first phase of construction includes 44,000 square feet, with enough lab and office space to house 95 people. GMRI's current staff of 18 is expected to grow to 50. Scientists from the Gulf of Maine Ocean Observing System, Maine Department of Marine Resources, University of Maine and University of Southern Maine will join them. The building's $14 million cost was covered by $5 million from the state of Maine, $2.8 million in federal funds and donations by corporations, foundations and individuals.

"The laboratory will bring together a unique mix of marine scientists who are interested in the complex system of the Gulf of Maine," says Laura Taylor Singer, GMRI's director of Collaborative Research. "By being under one roof, and through directed efforts to foster interaction, the scientists, fishermen and other stakeholders who are housed in the lab or visit the lab will be exchanging ideas, learning from each other and developing new opportunities for partnering."

The new building is designed to facilitate this collaboration. The central atrium will provide occupants and visitors with open work and meeting spaces for presentations, to share data or to brainstorm over coffee. There will be two main entrances: one on the street side for pedestrians and those arriving by car, and one on the harbor side for fishermen who have tied up their vessels next door at the Portland Fish Pier or neighboring wharves.

Fishermen will be key partners in fishery ecosystem research projects. Don Perkins, the president of the Gulf of Maine Research Institute, says: "Fishermen have been observing this ecosystem for generations and have lots of great questions, but they have been left out of the science process." The new lab will help further involve fishermen with marine scientists in formulating research theories, on questions about sustaining the haddock, cod, shrimp and lobster fisheries. It will also give them more opportunities to help gather data. Fishermen have already begun using their vessels to "harvest data," as Perkins puts it. The lab staff can work with the fishermen to secure funding for data collection, an activity they can pursue to help fill in between restricted fishing seasons.

Last year, the Gulf of Maine Research Institute changed its name from the Gulf of Maine Aquarium. While the name change illustrates the group's shift in focus, they still see education as a critical component of their mission. Connected to the fisheries ecosystem lab, and also part of the first phase of construction, will be the Gulf of Maine Research Laboratory Public Interface. GMRI is seeking funding so they can invite fifth or sixth-grade students to spend a day there at no charge, starting with the 2005-2006 school year.

Visiting students will have a chance to see researchers at work and will participate in an exercise with a marine scientist. They will use high-tech interactive displays to gain an appreciation for the process of doing marine science and to learn more about the Gulf of Maine and its watershed. Perkins hopes that over time, these visits will help Maine students become excited about marine science and will lead them to become more informed voters and decision makers on resource management issues.

In addition to the fishery ecosystem wing and Public Interface, a 20,000-square-foot marine biotechnology research wing is also planned. This would support 145 people doing marine research on the waterfront site. Perkins says they plan to begin this second phase of construction in 2005 or 2006. While he feels it is too soon to say what form a third construction phase would take, the 5.5-acre site offers options for additional growth.

This time next year, marine scientists who once communicated via e-mail and occasional meetings will be housed together on the Portland waterfront at the Gulf of Maine Research Laboratory. "To have scientists from different institutions under one roof is something that doesn't happen that often in the marine research community," says Perkins. He is looking forward to seeing the synergy that will result.


The Gulf of Maine Research Laboratory is being built at 350 Commercial Street in downtown Portland, Maine. For more information, visit www.gma.org or call the Gulf of Maine Research Institute at (207) 772-2321.