Seals as the Gulf of Maine's sentinels

By Lee Bumsted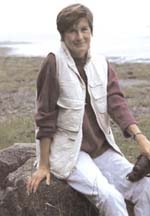 Susan Shaw, the energetic executive director of the Marine Environmental Research Institute (MERI) in Blue Hill, Maine, believes that seals in the Gulf of Maine can alert us to threats to human health. "Just as the songbirds in Rachel Carson's Silent Spring warned of the approaching dangers of DDT pollution, so can observations of our local seal population inform us of imminent threats," she says. "Wildlife signal us about toxic chemicals in our shared environment, and we need to read the signals correctly."
Dr. Shaw, an environmental toxicologist and public health professional, founded MERI 12 years ago to conduct research and provide education on the impacts of pollution on marine life and human health. "Marine mammals like seals are important in their own right and also as significant sentinels for ocean health and the effects of pollutants in humans," Shaw says. Since they are at the top of the food chain, seals and other marine mammals are vulnerable to accumulating dangerous levels of persistent organic pollutants such as PCB's, DDT and dioxins by feeding on contaminated fish. Humans who eat fish share some of the seals' dietary preferences and potentially face similar health threats.
Persistent organic pollutants, along with metals such as lead and mercury, make up a group of contaminants called endocrine disruptors. These contaminants can interfere with hormones and their receptors, influencing the messages being sent to growing cells in animals and humans. As a result, growth and development can be compromised and immune systems weakened. Over the past three decades, endocrine disruptors have been linked with devastating impacts on the reproductive and immune systems of seals in the Baltic Sea, the North Sea and other polluted waters. In a study of Pacific coast seals, Shaw's findings indicated that young harbor seals exposed to PCB's in the womb may be at high risk for immune deficiencies and altered hormone levels.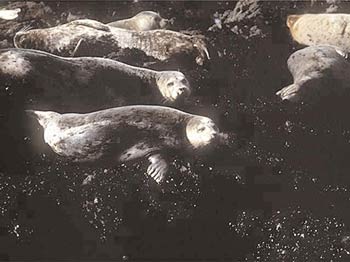 Harbor seals
Source: National Geographic Interactive

Higher levels of endocrine disruptors in seals may reflect localized pollution. Sources include pesticide and herbicide runoff from agriculture, blueberry fields and golf courses; municipalities or medical facilities burning PVC plastics; brominated compounds added as flame retardants to clothing, electronic circuitry and household products; and point sources such as pulp mills and finfish aquaculture.

MERI is now in the second year of its five-year Atlantic Coast Seal Study, a multidisciplinary effort to examine endocrine disruptors in Gulf of Maine seals, establish baseline levels and compare them to key health indicators. It is funded in part by the Maine Department of Environmental Protection and is recognized by the Gulf of Maine Council on the Marine Environment as a priority project.

"Contaminants have not been measured in these seals for 25 years despite the fact that they are exposed to contaminated habitats and prey in their range," Shaw says. "Just the fact that a population is increasing doesn't tell us whether it is healthy. For example, harbor seal birth rates are increasing overall, but the regional patterns are troubling. Pupping has declined in southern Maine and is at a standstill in the midcoast region. Possible explanations include habitat disturbance, food shortages or other factors, but from our perspective, the big question is: 'Are these animals healthy, are they affected by ocean pollution?'"

In the initial phase of the Atlantic Coast Seal Study, MERI conducted the first baseline study of toxic pollutant loads in wild Gulf of Maine harbor seals. Working with the NOAA Northeast Fisheries Science Center, MERI researchers obtained blood and hair samples from 29 harbor seals in Chatham Bay, Massachusetts and Penobscot Bay, Maine. They found that these seals carry significant body burdens of dioxins, mercury and lead. They also measured immune and hormone profiles in seal blood. Once they complete the analysis of that data, they will compare their findings to the contaminant levels to see what connections may exist. In the study's second phase, researchers are analyzing samples from 50 dead stranded harbor and gray seals and 20 live seals that stranded and were then rehabilitated and released back into the wild. "Ultimately this study will enable us to better assess long-term health risks posed by toxic pollutants to marine mammal populations," Shaw says.

MERI's ability to study seals has recently been enhanced by the completion of a Marine Mammal Care Unit at their Center for Marine Studies. Seals stranded in the Blue Hill Bay region can be rescued and given emergency medical treatment by MERI staff members before being transported to the Marine Animal Lifeline in Westbrook or the University of New England in southern Maine for rehabilitation.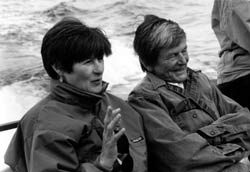 Shaw with Elisabeth Mann-Borgese, founder of the International Ocean Institute and MERI board member who died in February. "Elisabeth had a tremendous influence on my life," Shaw says. "She was a close friend and dedicated to protecting the world's great commons–the oceans." Photo: Courtesy of the Marine Environment Research Institute

The addition of the Marine Mammal Care Unit illustrates MERI's goal of combining research and education. Volunteers are trained to help with stranded seals, presenting another opportunity at MERI for community members to learn firsthand about the ocean and its inhabitants.

"Unless you are educating people about what you are finding, a lot of the science gets lost," says Shaw of her efforts to both conduct research and share information with the public. She believes that MERI has an important role in spreading a message of ocean conservation and stewardship, particularly to young people. The Center for Marine Studies gives children a chance to view Gulf of Maine inhabitants up close in the Ocean Aquarium Room, for instance. Summer internships for high school and college students are offered to foster interest in science careers. Outside the center, MERI takes children and adults on cruises in Blue Hill Bay and on island field trips so they can explore and appreciate the importance of the ecosystem.

This spring, MERI received a major gift to endow the Elisabeth Mann Borgese Lecture Series in honor of the late oceans advocate and longtime member of the MERI board of directors. The series will bring internationally recognized ocean experts to Blue Hill to share their knowledge with the general public.

Through the work of Susan Shaw and MERI, we will have a better understanding of the health of the Gulf of Maine, and the seals who may prove to be its sentinels.

To learn more about the Marine Environmental Research Institute's educational programs, seal stranding rescue program or research, visit www.meriresearch.org, phone (207) 374-2135, or stop by 55 Main Street, Blue Hill, ME.