Vol. 3, No. 2

PDF Version
Contents
Headline
Features
Gulf Log
Council Currents
Resources
Gulf of Maine Watershed
Letters
Back Issues
Spring 1999
Winter 1998
Fall 1998
Summer 1998
Spring 1998
Winter 1997
Fall 1997
Summer 1997
Spring 1997
| | |
| --- | --- |
| | |
Gulf of Maine Times
Summer 1999 - Volume 3, Number 2
Fishermen, scientists bridge Gulf with research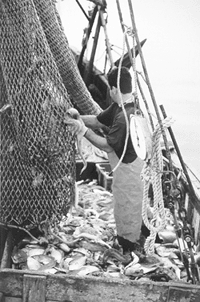 Gulf of Maine ---- From studying squid mating habits to modifying fishing gear to prevent whale entanglements, fishermen and scientists are expanding their understanding of the Gulf of Maine, and of one another, through diverse collaborative research projects.
Several factors are contributing to what sources describe as an increase in joint research projects. One is that fishermen want more of a role in managing their fisheries. Another is that government agencies need help collecting data, especially in Canada, where budget cuts are limiting federal researchers' time in the field. But most important is what fishermen and researchers describe as a growing understanding and appreciation of one another's contributions.
Correction On page 6 of the March 1999 Gulf of Maine Times (Vol. 3 No. 1) two aerial photographs of Maine's Bangor/Brewer area are shown. The orientation of the top photo gives the impression that Brewer is on the north side of the Penobscot River and Bangor is on the south side of the river when, in fact, the opposite is the case. Also, captions describe the photos as showing the Bangor Mall area, but they actually show much wider areas of the cities of Bangor and Brewer. The editors apologize for the errors.