Top Stories
The dreaded spread of sprawl
While coastal southern Maine struggles to control development, Midcoast residents worry as the trend moves north
By Andi Rierden, Editor
Spread out a maritime chart of the Medomak River as it flows into Maine's ragged Midcoast, then trace a path along The Narrows between Johnson and Hardy islands and you'll run your finger into the shoreline of Bremen, Maine. Fiercely grounded in traditions linked to land and sea, this town of 782 residents might be described in a tourist guide as "quintessentially" Maine.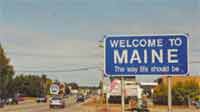 Is Maine's rustic appeal too alluring for its own good? Photo: Andi Rierden.
Bremen native Dale Witham has fished, dug for clams and dropped lobster pots along these shores all his life, just as his father and grandfather did before him. Tall, ruddy and intense, he embodies, in large part, the culture and character of this region.
But as commercial and residential development fans out in neighboring towns, transforming the landscape and attracting new faces and lifestyles, Witham often wonders whether he and his community are an endangered lot.
"I'm afraid people like us, people who don't have a lot of money or education, are going to get pushed out farther inland because we can't afford to live here," he says. "It's happening like the rest of the East Coast. They're coming in here and building this area up and making it look like the place they left behind. The worst part is, it's going to be gone before people even realize we lost it."
Similar anxieties are being voiced throughout Maine's Midcoast, once considered by many longtime residents to be immune from the grip of rampant development and its negative consequences. But as excessive consumption of Maine's open space has become all too apparent in the southern part of the state, coastal towns to the north are also struggling to come up with land-use strategies that might prevent the consequences of sprawl from overtaking their communities.
"People have to understand that we have so much to lose if we don't try to control growth," says Amanda Russell, a town planner from Edgecomb. "Otherwise we're going to end up looking like southern Maine."
---
A community's gift to the Gulf of Maine
By Andi Rierden, Editor
The Cobequid-Chedabucto Fault System courses through Nova Scotia from the southern end of Cape Chignecto Provincial Park near Advocate Harbour in the Upper Bay of Fundy, then continues across the province and out to the Atlantic. The fault approximates the place where great landmasses collided 400 million years ago to form the supercontinent Pangea. When Pangea broke apart 300 million years later, large fragments formed the modern continents, such as North America.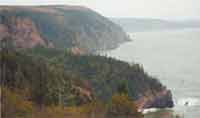 Seacliffs along Cape Chignecto Provincial Park. Photo: Andi Rierden.
At Red Rocks beach near the park's entrance, the effects of the fault are revealed along the cliff escarpments in the form of crushed rocks. The red rhyolite cliff face at Spicer's Cove traces back to the same epoch.
---