Top story
Draining the river dry:
As explosive growth strains the Ipswich in Massachusetts, New Hampshire's Lamprey may not be far behind
The Ipswich River and the price of urban sprawl
By Maureen Kelly
On the North Shore of Massachusetts, where the Ipswich River's quiet waters zigzag through Massachusetts Audubon's 2,800 acre wildlife sanctuary, the river appears untouched by the sprawling development that spreads from the Greater Boston area. Deer come to the riverbank to drink, turtles bask on logs, muskrats scurry at river's edge, and birds - from egrets to red-winged blackbirds - fly over the wetlands. From there, the river flows east to Ipswich and empties into Plum Island Sound. The estuary is part of the Great Marsh on the Atlantic flyway. more...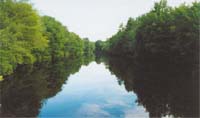 Photo at left: Fair skies over the Lamprey River in New Hampshire–for now.
Photo: Andi Rierden

Preserving the Lamprey before it's too late
By Andi Rierden, editor
The Great Bay in New Hampshire is one of the most ecologically sensitive nearshore environments in the Gulf of Maine. Encompassing a 200 square-mile area, the estuary is formed by the confluence of five rivers. The largest river, the Lamprey, is among the area's more pristine waterways, and plays a significant role in the bay's health. more...
---
A decade of clean water action
Coastal community programs have changed the way Atlantic Canadians think about their water
By Andi Rierden, editor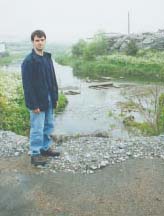 Water quality. It is a topic that generally stirs interest only when tragedies occur like the one in Walkerton, Ontario, last year, where seven people died of E. coli contamination. But long before Walkerton, and discoveries of the bacteria in wells across North America, the community-rooted Atlantic Coastal Action Programs (ACAP) were exposing the harsh truth about the region's strained watersheds and pushing for change. more...
Sean Brillant of ACAP St. John in New Brunswick stands near Marsh Creek, which is filled with toxic waste.
---
Feature stories