Vol. 3, No. 3

PDF Version
Contents
Headline
Features
Gulf Log
Council Currents
Resources
Gulf of Maine Watershed
Photo Exhibit
Back Issues
Summer 99
Spring 99
Winter 1998
Fall 1998
Summer 1998
Spring 1998
Winter 1997
Fall 1997
Summer 1997
Spring 1997
| | |
| --- | --- |
| | |
Gulf of Maine Times
Volume 3, Number 3
Right whale rescuers expand disentanglement efforts in Gulf
Bay of Fundy ---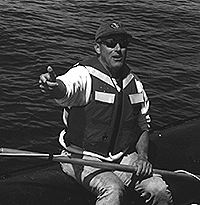 Organizers of an expanding network of people trained to release whales from fishing gear would love nothing more than to see their pet project become obsolete. But last spring, as training sessions took place in Canada and the US, the need to expand the network only became more apparent. In May and June alone, five endangered North Atlantic right whales were seen towing fishing gear in the Gulf of Maine.
"I have never seen right whales and fishing gear together so much --- ever," said Deborah Tobin, Education and Whale Rescue Coordinator at East Coast Ecosystems (ECE), a right whale conservation organization based in Freeport, Nova Scotia. "We're not happy to see so many entanglements, but we're happy with being able to test out our new system," she said.
Scientists are uncertain where most of the North Atlantic right whale population is at any one time, where they breed, or where males spend the winter. Some females, however, are seen migrating annually from their calving grounds along the southeastern US coast to one of their feeding and nursery grounds in the Bay of Fundy, appearing in Cape Cod Bay in winter and early spring. Male and female right whales appear in the Great South Channel in late spring. They begin arriving in the Bay of Fundy and on the Scotian Shelf in June or July, remaining there through the summer. During their travels through inshore waters, the whales can encounter fishing gear.