| | |
| --- | --- |
| | |
Top Stories
Partnerships ensure protection for Maine lands
Maine Coast Heritage Trust's distinct approach has conserved 260 coastal islands
By Lee Bumsted

On a sunny day last fall, I drove down the Phippsburg Peninsula in southern Maine until I reached a convenient launch ramp. I had two sea kayaks strapped on top of my car, so that Chris Hamilton of the Maine Coast Heritage Trust (MCHT) could join me. We readied our gear and then paddled a short distance offshore to Malaga Island, one of the trust's recent acquisitions. When we landed on a pocket beach at the north end of the 41-acre island, I could see why Hamilton had packed his camera. Rounded wooden lobster traps, abandoned in favor of the more durable rectangular wire models, littered the shore and sumac was taking on its autumn colors. From our lunch perch atop a stretch of granite ledge, we had a fine view of neighboring islands and passing fishing boats.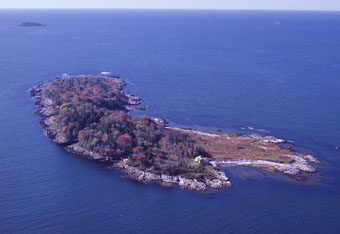 Twenty-six acre Flag Island in Casco Bay, owned by the Maine Department of Inland Fisheries and Wildlife is home to one of the largest eider duck nesting colonies in the state. The island's purchase was made possible through the Maine Coast Heritage Trust.

After lunch, I asked Hamilton how MCHT decides which islands to protect. "Any undeveloped island is of interest to us," he replied. He said of the 1,200 islands over an acre in size along the coast of Maine, "about 400 still hang in the balance, being unprotected and relatively undeveloped. Our goal is to protect as many of those 400 islands
as we can." What he hopes to protect them from is new construction, such as the large glass-fronted vacation homes and "kingdom estates" that have been cropping up along the Maine coast.


Maine Coast Heritage Trust has been quietly operating since 1970. The statewide trust holds as its mission "to conserve coastal and other lands that define Maine's distinct landscape, protect its environment, sustain its outdoor traditions and promote the well-being of its people." It does this through extensive partnering with federal agencies, state agencies and local land trusts, in addition to working with the landowners themselves. Private philanthropy, endowment income and grants fund its annual operations budget of approximately $2.25 million. The trust has helped conserve an impressive 112,000 acres, including 260 entire coastal islands.


Unlike most land trusts, Maine Coast Heritage Trust generally does not hold onto the properties it works so hard to acquire. Of the 850 land protection deals it has completed, the trust only owns 48 properties outright. It holds conservation easements, which place limits on future development, on 95 others. It has transferred the remaining properties and easements to its partners.

...more...

---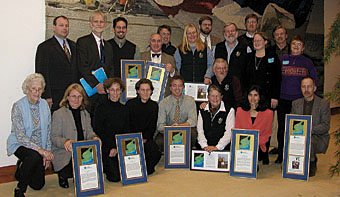 The Gulf of Maine Council's stewardship award winners at a reception held in December in Boston. Recipients included a North Atlantic right whale advocate, high school educators and land and marine conservationists. Click here to read story..
---
Saving the Maritimes' largest wilderness area
Don Rice and Jim Todd's dedication to Nova Scotia's Tobeatic has earned them the Gulf of Maine Council's Art Longard Award for 2002.

By Andi Rierden, Editor

From a satellite image taken more than 400 miles above Nova Scotia, the Tobeatic Wilderness Area appears as a beautiful mosaic of wetlands, barrens, meadows and dense woodland. Unlike the patchwork of roads and chock-white scars of forest clear cuts that skirt its borders, this vast, isolated tract, at over 104,000 hectares [370,740 acres] stands apart as a lush and unfragmented ecosystem.
"The Toby," as it is often called, is the largest protected area in Maritime Canada. The subject of a well-loved classic, The Tent Dwellers [Nimbus Press, Halifax], and scores of backcountry tales handed down through the generations, it remains Nova Scotia's last true wilderness. The province's small native moose population depends upon its undisturbed lands and waterways to survive, as do black bears, river otters, bobcats and the endangered Blanding's turtle and rare southern flying squirrel. The Tobeatic provides a stable habitat for water-pennywort, golden crest, redroot and Long's bulrush, all listed as species at risk. The headwaters for nine rivers that flow into the Gulf of Maine rise from the Tobeatic, including the Shelburne, a Canadian Heritage River.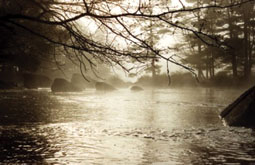 That this region in south central Nova Scotia was designated in 1998 as protected under the provincial Wilderness Areas Protection Act is due largely to the efforts of Don Rice, a potter from Bear River, and Jim Todd, a cartographer and graphic artist from Perotte. For more than a decade, the two stewards, along with other members of the Tobeatic Wilderness Committee, have led a persistent and mostly uphill campaign to secure the Tobeatic's preservation. They continue to appeal for protection of its adjacent lands, arguing that extensive logging, a proposed quartz mine near its northwest border, and ATV use within and around the area, threaten the Tobeatic's long-term sustainability.

Knowledge born from deep roots

As a boy, Rice's father worked as a logger for the local saw mills at the northern ridge of the Tobeatic. The scenery and mystery of the area formed a lasting impression. "Dad would drop us off to play along the shores of Lake Joli near the entrance of the Tobeatic, while he brought down booms of logs through lake system," Rice recalls. "The Tobeatic was always a presence for us, you heard about it all your life."