Gulf of Maine - From that stalwart little hump in your local cove to the cliff-bound behemoth that looms farther off shore, islands have a look of durability about them. Even the tiny ones that disappear under a high tide always come back.
But this appearance of abiding strength is deceiving. Every moment, wind and water grind away at the Gulf's thousands of islands, and some say increasing numbers of human visitors are adding to the cumulative wear and tear.
Treacherous shores, bad weather, or aggressive seabirds provide some natural protection against heavy visitation for many islands in the Gulf. But in the US, the effects of increased use on more accessible islands are emerging, and some islands have seen significant damage. The Atlantic provinces have yet to experience the intensity of the increased visitation that has mounted on the coast of Maine, where most of the Gulf's islands are. "Without being too complacent, we realize that we have a little bit of time to get things in order," said Randy Milton, Manager of Wildlife Resources for the Nova Scotia Department of Natural Resources Wetlands and Coastal Habitats Program.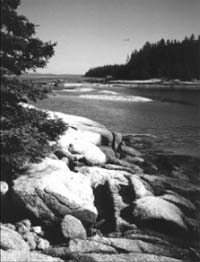 Islands in the Gulf of Maine have drawn visitors for generations, but some fear increasing visitation is jeopardizing their beauty and ecological systems.