*Web only content*
Outside the Gulf
Woods Hole scientists use local plant
to boost fish aquaculture in Haiti
By Susan Llewelyn Leach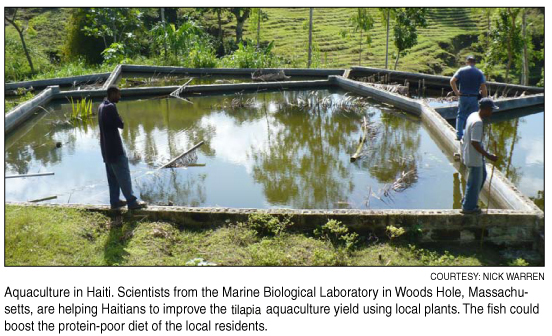 Tilapia is not a picky fish—it likes to graze on algae, bacteria and insects. That unsophisticated palate has been a boon to a project in Haiti, where scientists from the Marine Biological Laboratory (MBL) in Woods Hole, Massachusetts, and a Christian aid group are working together to improve the yield of fish ponds and in turn boost the protein-poor diet of the local population.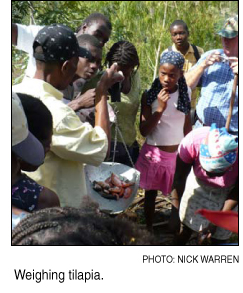 In 50 man-made ponds in L'Acul, a mountainous region 40 miles (64 kilometers) north of the capital Port au Prince, researchers from the MBL are perfecting a way to increase the ponds' output tenfold without resorting to expensive imported fishmeal or unaffordable technology.
The answer has been a plant at the bottom of the food chain known as periphyton. More readily identified as the green slime you find on rocks at the beach, it is a "cafeteria of nutrition," said Bill Mebane, director of the Sustainable Aquaculture Initiative at MBL. It contains everything a fish needs to grow.
To speed periphyton's growth, and by extension, the tilapia's, each pond has a compost bin into which farmers throw their household scraps, such as vegetable waste, banana leaves and animal manure. Back at the MBL lab in Massachusetts, researchers mimic this process in the tropical climate of a 900-square-foot (nearly 84-square-meter) greenhouse, where they test different cocktails of nutrients in a dozen or so tanks to see which favors the best fish growth. That information then gets relayed back to the farmers in the form of "add more chicken manure or banana scraps," Mebane explained.
The ponds, which act as mini waste-treatment plants, are also furnished with palm fronds and bamboo for the periphyton to cling to as it grows.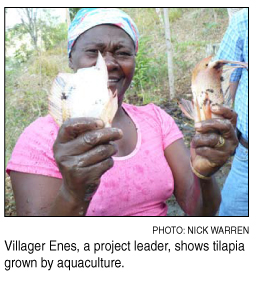 What periphyton offers—and where an earlier experiment with food pellets failed—is a low-resource method of fish farming, Mebane said. The materials required are local and largely free, and the human effort minimal.
In 2003, when MBL first joined forces with the Christian aid group called the Comprehensive Development Project (CODEP) that built the ponds, the goal was to find some valueless plant product, such as tree leaves, that could be formulated into fish food. What the researchers discovered after three years of experimentation was that Haitian women had little time to pick, dry, grind and mix the appropriate amounts of leaves with other ingredients to make the pellets. It was too labor intensive for a culture where one woman might spend up to five hours a day fetching water for the garden and to cook.
Although MBL didn't pursue the idea in Haiti, the pellet recipe has been requested by groups in sub-Saharan Africa and Latin America, and may yet prove a benefit to the commercial aquaculture industry, Mebane said.
That's because a global fishmeal shortage has forced sophisticated fish cultures around the world to look at alternatives, and plant protein is high on their list. (Most cultured fish require at least a pound of fishmeal to produce a pound of fish.) This, paradoxically, has pushed MBL's periphyton project in the poorest country in the Western hemisphere to the forefront of fish technology.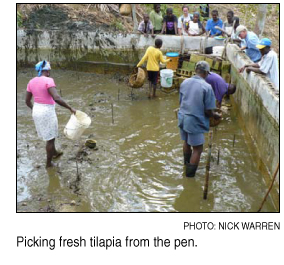 Meanwhile, the L'Acul fish ponds have been drained and their second harvest taken to Easter market. So far pond yields have jumped from an average of 15 pounds (almost 7 kilograms) of fish a year to 50 pounds (almost 23 kilograms), said Nick Warren, coordinator for the Sustainable Aquaculture Initiative, who is monitoring the harvest. He'd like to see a 100-pound (45-kilogram) annual harvest, he said, but two elements are crucial to an increased yield: filling the compost bin and keeping it stirred, and replacing the palm fronds each month as they decompose so the periphyton has plenty of surfaces to grow on.
One future goal of the project is to encourage the Haitians to harvest weekly, rather than twice a year, which leaves them with a hoard of fish that either has to be sold or eaten immediately, since there's no refrigeration.
A second goal is to keep the tilapia from breeding out of control. That means teaching farmers to use a net and scoop up the clouds of babies each day. Otherwise the ponds end up with tens of thousands of 2-gram (.07-ounce) tilapia that grow no bigger, rather than fewer more substantial fish.
It is still early to see any physiological improvement in the local Haitian population from the added protein, Mebane said. But the emotional response is clear. "Just giving them knowledge and working along side them—they love that." [more information]
Susan Llewelyn Leach is a free-lance writer based in Cambridge, Massachusetts.