Salt marshes once evoked visions of blighted, boggy wastelands, places to toss old tires, rusted car hulks and beer cans. Battered by pollutants and trash, or drained, filled, clogged or diked to make way for roads, fast-food restaurants, malls, subdivisions or farm lands, they rarely received any notice, much less respect. Now, like an old, worn cabinet stuck in a basement that turns out to be a valuable antique, the lowly salt marsh is looking more like a hidden treasure than a blot on the landscape.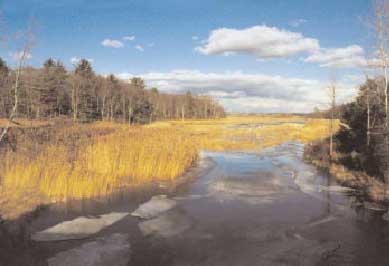 more...
A long list of citizen groups, state and federal agencies are working to restore Scarborough Marsh (right), the largest tidal marsh in Maine. A haven for migratory birds and other wildlife, the marsh is being degraded by increasing commercial and residential development. Photo: Andi Rierden
---
By Andi Rierden, Editor
"I saw a marvelous thing the other day," John Hay was saying. It was a crisp, blue skied day following a March nor'easter and he was sitting in a living room chair facing a long wall of books. A bank of windows framed the snowy woods encircling his Brewster home near Cape Cod Bay. Birdfeeders swayed with blue jays and chickadees, and a fox had crossed the site earlier in the day.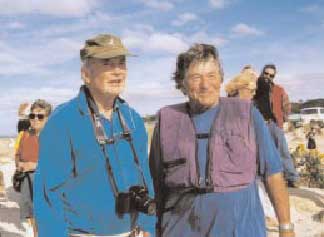 Hay, left, with Gulf of Maine steward Richard Wheeler.
"I went down to an east end beach and it was pretty close to high tide," he continued. Hay then spotted a huge flock of sanderlings covering a sandbar. As the tide rose, they moved closer to shore. "There were at least a thousand of instant, they flew up into the air in this great white bloom, weaving across the sky like a string of beads." He paused and let out a gentle laugh. "This is what we call instinct; this amazing cohesion." The story illustrated Hay's own amazing instincts for capturing nature, "in terms of its own heights and depths, its everlasting offerings." For decades his observations and close association with the natural world of Cape Cod has made him a leading voice in the environmental writing movement spawned by John Burroughs and John Muir in the late 19th century, and later Rachel Carson. Hay's 15 books offer renderings of sea, shore and sky and alert the reader to how much of the living world passes by us unobserved.