More than a year ago, when bulldozers ripped open the 917 foot (275 meters) wide Edwards Dam, which had blocked the Kennebec River in Maine for 163 years, Steve Brooke stood on the bank and cheered. As a volunteer for Trout Unlimited and a coordinator of the Kennebec Coalition, a group formed to restore the waterway, Brooke had worked for years to see the river he cherishes run free.
Today when he speaks about the dam, its demise, and the movement it unleashed as a result, his voice swells with passion. Not only did the dam project set a major precedent, he says, it turned the historic tide from an era of exploiting rivers to one of sustaining and restoring them.
"What happened to the Edwards Dam is a reminder of what we can do as citizens," he says. "It holds hope that it is possible to improve the quality of our rivers and our communities."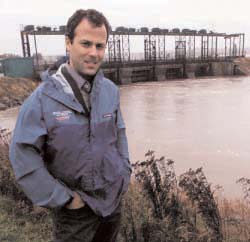 Daniel LeBlanc of the Petticodiac Riverkeepers in New Brunswick has proposed a plan to open the gates of the Petitcodiac River causeway to restore the river's tidal flow. The causeway in the background has been a focus of controversy for years.