Few of us have any idea where our fish actually originate. And for Nancy Shackell, that's a big problem. Last fall, Shackell, a marine ecologist at the Bedford Institute of Oceanography in Dartmouth, Nova Scotia, set out to educate consumers about how their seafood choices affect the overall health of the oceans. Shackell's idea was to form a network of fish lovers keen on buying fresh and local fish caught by methods that cause the least harm to marine habitats. Working with the Ecology Action Centre, she made arrangements with a local fish processor that employs bottom hook and line gear. The practice uses long lines with bait hooks attached that are anchored to the ocean floor. Bottom longlining may be much less destructive than trawl, or drag nets, which can rake the sea bottom and destroy underwater habitats.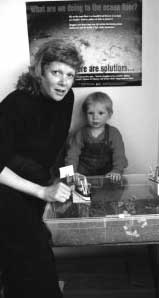 Nancy Shackell with son Lee next to a bottom hook and line fishing display. Photo: Andi Rierden
Today Shackell works out of her home overseeing a burgeoning consumer co-op. She updates buyers to fish availability and takes orders online. From there, customers pick up their orders at her home.
Valerie Mansour, a Halifax writer and researcher, said she heard about the consumer scheme from a friend and that she learned only later how the fish were caught.
"That's a real bonus," she says. "It's great to support economic models that you can feel good about. Plus the fish tastes great."
The next step, Shackell says, is to contract with hook and line fishermen through the Bay of Fundy Marine Resource Centre, and perhaps sell the fish at farmers' markets.
"We're not in the fish business," Shackell emphasizes, "we just want to give people a way to buy fish that is local and not caught in a destructive manner."
Shackell's novel campaign is part of a larger trend to give consumers a tangible way of getting involved in saving and safeguarding marine life. In the past couple of years, a number of organizations from the National Audubon Society's Living Oceans Program to the Monterey Bay (California) Aquarium have published seafood guides alerting consumers to what fish are harvested by sustainable means, and therefore, what to buy and what to avoid. Another effort, the Chefs Collaborative, is a group of 1,500 chefs that promote serving sustainable cuisine. Proponents in the Gulf of Maine region compare the actions to the more established idea of buying meat and vegetable produce that supports healthy agricultural practices–only with the oceans in mind.
"There's no question that conservation-minded consumerism is becoming the norm," says Azure Westwood of the Cape Cod Commercial Hook Fishermen's Association, a non-profit, community- based organization made up of small boat fishers and coastal residents (www.ccchfa.org).
Faced with depleting fish stocks, daily catch limits and limits on the number of fishing days, the hook association helped organize Cape Live Seafood, a for-profit concern that markets live hook-caught fish to restaurants and retailers in Boston and New York. Its purpose, Westwood says, is to promote sustainable fisheries and give fishers a better price for fresh fish. The association is hoping the idea of higher quality fish landed by hook gear will catch on throughout the region.
With a grant from the Massachusetts Department of Communities and Development, Cape Live Seafood opened a certified facility in Harwich last fall that can hold 5,000 pounds of cod-fish. Buyers benefit by having to deal with only one distributor instead of several boats scattered around the area, Westwood says, adding, "It's also a way to highlight to fishermen the economic perks of catching fish in a way that doesn't deplete the marine environment."
Another important entity aspiring to change consumer attitudes is the Marine Stewardship Council (MSC), a non-profit international organization, which has developed a process to certify sustainable fisheries (www.msc.org). Under its program, fisheries worldwide can apply to be assessed under MSC standards. If they make the grade, they earn the right to use the MSC sustainability logo on their products. The Alaskan salmon fishery is the first U.S. fishery to earn certification. Others include Western Australian rock lobster and Thames herring fisheries.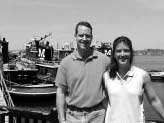 Henry and Lisa Lovejoy of EcoFish Inc. Photo courtesy of Henry Lovejoy
Just recently, a small New Hampshire seafood company became the first nationwide seafood distributor to win MSC certification. "This is a real feather in our cap," says Henry Lovejoy, the president and founder of EcoFish, Inc. based in Portsmouth. With his wife, Lisa, the Lovejoys sell "guilt- free" seafood over the Internet that is "caught in an ecologically sound manner." The Web-based company started in 1999 and caters to customers from around the U.S. (www.ecofish.com). Advisory board members include Greg Stone, the director of conservation for the New England Aquarium and Carl Safina, the director of Audubon's Living Oceans Program.
Lovejoy, who spent ten years in the global seafood trade, says his customers can be assured their fish comes from well-managed fisheries and that the seafood is not over-fished. "There is a tremendous concern about the plight of the oceans and consumers are definitely responding as a result," he says.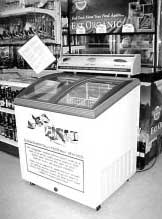 The "environmentally sound" EcoFish brand is sold through 23 retail businesses across the US. Photo courtesy of Henry Lovejoy
Home delivery customers can choose from Dungeness crab from Oregon, Pacific yellowfin tuna from Hawaii, Pacific halibut from Alaska and other products. EcoFish also sells to restaurants and natural food stores. If ordered by Monday, the seafood is shipped to arrive by Thursday. Restaurants receive their fish within 24 hours. "We now have the EcoFish brand in 23 states," Lovejoy says.
Like Shackell, Westwood and other like-minded advocates in the Gulf of Maine region, Lovejoy says even small actions like buying environmentally "safe" fish can have big consequences. To be sure, once EcoFish reaches profitability, 25 percent of its pretax profits will go to safeguarding the seas.
"The biggest sign of our success will be when we are able to give a significant financial contribution to marine conservation," Lovejoy says.
In the meantime, Shackell is encouraging other consumers in Nova Scotia to form their own fish co-ops and will continue expanding her own, she says, "until fish are eco-labelled in the supermarkets."
To find out more about Nancy Shackell's consumer project you can e-mail her at: dbrick@atm.dal.ca or phone Mark Butler at the Ecology Action Centre, (902) 429-2202.