Gulf Voices
Tusket River advocate puts words to action
By Scott Milsom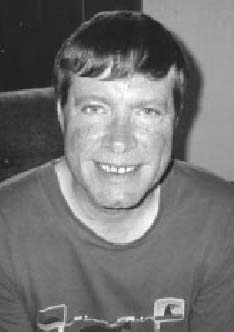 Scott Milsom. Photo courtesy of Scott Milsom.
In the late 1970s and early 1980s, rich tin deposits were found in the interior of Yarmouth County, Nova Scotia. In 1985, Rio Algom Limited, a subsidiary of the British multinational Rio Tinto Zinc, began mining operations near East Kemptville, in the watershed of the Tusket River. By the time spring rolled around, people began to notice that the river's waters had turned brown.
In April of 1986, the Yarmouth County Wildlife Association called a public meeting about the problems at the tin mine. Mil Nickerson remembers that meeting well. "About 400 people showed up," he recalls. "There were people there from both government and industry who said that everything was fine, that together they would get things back in order. After almost four hours of questions and evasive answers we all left, and it seemed there was nothing people could do to get the Tusket River cleaned up. I went home and grumbled to my wife, Jean, about it. She told me to stop complaining and instead to do something."
That was the start of what would become the Tusket River Environmental Protection Association (TREPA). "I got on the phone with some others, and we started knocking on people's doors," Mil tells me. A week after the initial meeting, another was held at the Lake Vaughn Fire Hall. All told, 52 people founded the organization. Nickerson was elected its first president. "It was all Jean's fault," he says with a smile, as we talk in the small TREPA office above a florist's shop on Main Street in Yarmouth.
If it is, in fact, all Jean Nickerson's "fault," people in western Nova Scotia owe her a big debt of gratitude. Through public meetings and media coverage, TREPA continued to voice its concerns about the river's condition. Within weeks of TREPA's founding, the federal Department of Fisheries and Oceans (DFO) laid charges against Rio Algom for past violations. (The company had already begun improving the way it treated mine effluents. It operated the mine until 1992.)
Soon, the waters of the Tusket River were running clear again. TREPA was far from finished, however. It began research into heavy metal contamination of both surface and groundwater. It hasn't looked back since.
In 1987, the East Tusket River Monitoring Committee was formed to keep a long-term eye on water quality in the river system. It included representatives from Environment Canada, DFO, the Nova Scotia Department of the Environment, Rio Algom and TREPA, which has continued its involvement with the committee ever since.
The ecosystem of the Tusket River is very special. The endangered Atlantic whitefish has been found in its waters, while rare plants bring colour to its banks. One of these rarities is a wildflower called plymouth gentian, and in the late 1980s TREPA became aware that these plants flourished in an area around Gilfillan Lake. The land was owned by the Liverpool-based Bowater Mersey Paper Company, and it asked that TREPA, together with the Nature Conservancy of Canada, assume stewardship of the site. TREPA agreed, and the Gilfillan Lake Nature Area was formed.
In 1995, Bowater sold its holdings in the area to J. D. Irving Limited, but it donated the 26-acre parcel of land to TREPA, which renamed the area the C. R. K. Allen Nature Reserve. (Yarmouth-born Charles R. K. Allen was a renowned biologist, naturalist and educator who passed away in 1998.) TREPA, which uses the plymouth gentian in its letterhead and logo, continues to protect and monitor this very special place.
In the mid-1990s, TREPA worked together with Nova Scotia Power (NSP) to design and install a new fish ladder on the Tusket River, where NSP has had a small hydro operation for many years. NSP still supports a number of TREPA activities in the area. "We may not always agree with everything they say," says NSP spokesperson Margaret Murphy, "but they are great custodians of the land in that part of the province, and they have a very solid reputation with everyone who works with them."
In the mid-1990s a dispute arose between a groups of monks at Nova Nada in the interior of Yarmouth County and J. D. Irving Limited. The monks claimed that the noise and environmental destruction caused by Irving clearcutting would ruin the serenity they had come to Nova Scotia to enjoy. In the end, the monks left and Irving went ahead with its clearcutting.
"We supported the monks against Irving," Mil says. "Then, in 1997, Irving approached us to sit on a committee that would look at all aspects of the company's forestry operations in western Nova Scotia. We agreed, although we have a lot of problems with the way Irving operates. We've worked on that committee and we've been able get some concessions in the best interests of environmental protection. You work with whomever you have to protect and defend the environment."
Over the years, TREPA has submitted briefs to government bodies, lobbied in favour of pesticide-free and organic farming, promoted recycling, cleaned beaches, helped count the abundance and distribution of amphibians and reptiles in the Tusket River watershed, expressed concerns over specific environmental issues and raised public awareness about the environment. Its achievements have been recognized by three levels of government, by the business community and by the people of western Nova Scotia. That's not bad for an organization that has an annual operational budget of about $10,000 and has never had a paid employee.
Three cheers for Jean Nickerson!
Scott Milsom, the editor of Coastal Communities News, interviews community stewards throughout Nova Scotia. This article contains excerpts from the summer issue, online at www.coastalcommunities.ns.ca/index.html.