A painter of sacred grounds
By Andi Rierden, editor
Peter Gough is poised at an easel, chin pointed in the air, musing over a work in progress. He leans back from the painting, then forward, brush in hand, back and forth, and soon a dreamy image of fall leaves floating in a pool of water lifts from the canvas. "Now look closely," Gough tells his visitor. "At the circles in the pool and the sun's reflection and everything beyond the surface. What we have is a metaphor for different levels of perception."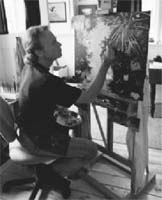 The artist and conservationist Peter Gough in Glen Margaret, Nova Scotia Photo: Andi Rierden.
Watching Gough paint and move through his studio in Glen Margaret, Nova Scotia is a spectator sport. From his easel he flits to a coffee table, picks up his journal and reads a passage about the spiritual refreshment he derives from painting the outdoors. Nature compels him to paint, he says, the landscape enthralls him, body and soul.
Displayed on a wall behind him are works from a series called "The Ark," a tribute to the marine environment in the Bay of Fundy and Gulf of Maine. They include Edge of the Sea, a tranquil rendering of waves folding over a white sand beach and Co-Existence, a portrait of a lone sea iris emerging from a crop of boulders.
For Gough, the iris is the symbolic warrior triumphing against great odds. "Here you have this soft, gentle but bold and enduring iris amid all these rocks," he says. "It is nature in all of its perfect harmony."


Co-existence
Gough is contributing 40 percent of the selling price of paintings from "The Ark" to the Gulf of Maine Council and is giving the organization the rights to use the images to produce posters, cards and other products for sale. The proceeds will help the Council raise funds for its work and bring attention to the Gulf of Maine.
"I see the series as a vessel, which carries a message from one generation to the next," Gough says. "Its message is that we must sustain the natural environment to ensure the survival of its natural resources."
Influenced by landscape painters like Tom Thomson, the early 20th century Canadian colorist, Gough has painted for the benefit of nonprofit organizations before, contributing a portion of the sale of his works to environmental organizations and groups committed to sustainable development.
His work is an extension of a broader philosophy grounded in conservation and natural history. "To me, every blade of grass is sacred and as a resident on this earth I'm responsible for that," Gough says. "I believe in a heaven and in a hell, and to me, this planet is heaven. It's all I need and I have the ability to celebrate it through my paintings."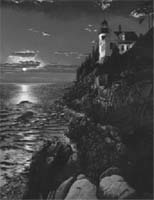 Dawn
Gough grew up near Halifax. He describes his father as an avid hunter and fisher, who sang at weddings and "had one of the most beautiful tenor voices in Halifax." Through his father, Gough was drawn to the countryside with all its moods and colors. He also hunts and fishes, he says, "not because I care if I'm successful at it, but mostly for the spiritual rewards I get from being in the woods or by a stream."
He studied fine art at the Nova Scotia College of Art and Design and at Andrews University in Michigan. For several years he worked at a marketing firm in St. John's, Newfoundland, where he was also an artist in residence at Cape St. Mary's Ecological Reserve. The Gulf of Maine Council connection evolved after he met Pat Hinch, a policy analyst for the Nova Scotia Department of Environment and Labour, who saw Gough's work and learned he had contributed a part of his proceeds to two Newfoundland nonprofits that work on conservation issues. While vacationing in St. John's, Hinch visited Gough's studio. "He told me how much he believed in the work of conservation organizations and when I told him about the Gulf of Maine Council he got very enthusiastic," she says.
After the Council endorsed Gough's proposal for a series of paintings, the artist set off and traveled the length of the Gulf of Maine photographing and collecting mental images. While touring Portsmouth Harbor in New Hampshire, Gough came upon its lighthouse with a walkway leading to the entrance. "I couldn't believe how beautiful it was," he says, "and how it represented hope and so much of the heritage of the Gulf of Maine." The encounter resulted in a towering acrylic image of the lighthouse, which Gough calls Bridge to the Past. All told, Gough's Gulf of Maine sojourn resulted in 16 paintings.
He and his wife Brenda and two of their three children moved to Glen Margaret two years ago (Gough's oldest child, Shaun, is a video artist who lives in New York City). Their home rests near St. Margaret's Bay, in a neighborhood, Gough says, "where people are amazingly generous."
Newfoundland was inspiring, he adds, "But I got very homesick for Nova Scotia. It's a funny thing, the connection a place has on you. I could never get homesick for Toronto or New York, but Nova Scotia is sacred ground. I missed its character and the scent of its trees and the sea."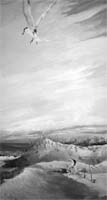 Dance with the wind
In his studio Gough receives visitors from all parts of the world. Gough says he talks with them about creating a sustainable environment as much as he does his paintings.
"I can't change the entire planet, but I can have an effect over my part of the world. I hope when visitors leave my studio, they will see the natural world in all of its glory and do their best to take care of it."
Peter Gough can be found inside his studio most days. To reach him phone (902) 823-1917.